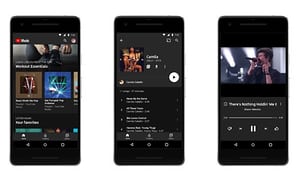 YouTube to launch new music streaming service
YouTube Music, which will replace Google Play Music, is due to launch on 22 May and will rival Spotify, Apple Music and Tidal
YouTube has unveiled a new music streaming service, YouTube Music, which will launch on 22 May and compete with subscription platforms including Spotify, Apple Music and Tidal.
The platform will launch in the US, Australia, New Zealand, Mexico and South Korea before being rolled out in 14 additional countries, including the UK.
Free, ad-supported accounts will be available, while the subscription tier, YouTube Music Premium, will cost $9.99 (about £7.40) a month.
Elias Roman, a product manager for YouTube Music, emphasised YouTube's "tremendous catalogue of remixes, live performances, covers and music videos that you can't find anywhere else – all simply organised and personalised".
With the aid of Google Assistant and access to a wealth of user data, the app will offer recommendations automatically based on the time of day and the user's location and listening habits, according to Pitchfork. YouTube executive T Jay Fowler described the revamped service as a "deeply personalised experience".
YouTube Music will supersede Google Play Music, which will continue to exist as a cloud locker service, to which users can upload their music for portable streaming. Existing subscribers will receive access to the new service.
In addition, YouTube Red – the ad-free, paid-for version of YouTube – will be renamed YouTube Premium and include access to YouTube Music. Existing subscribers will continue to pay $9.99 a month, while new subscribers will pay $11.99.
Roman said "more than 1 billion music fans come to YouTube each month to be part of music culture and discover new music" – which marks the first time YouTube has revealed data about its music users, Music Ally reported.
The launch of YouTube Music and the rebranding of YouTube Red brings cohesion to the streaming strategy of YouTube and its parent company, Google.
In 2014, it launched YouTube Music Key, which offered free and offline streaming for a monthly fee of $9.99.
A prior mobile app, also called YouTube Music, allowed YouTube Red subscribers to play YouTube videos with the screen off. The standard, ad-supported version of YouTube works only with the screen turned on and the browser or app in the foreground.