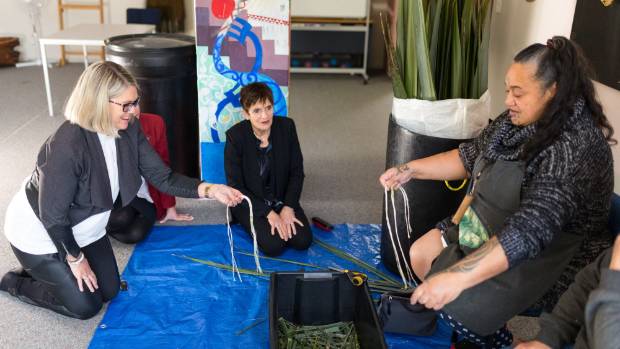 Wearable memorial for much-loved former Taranaki teacher and principal
A New Plymouth high school has commissioned a wearable memorial to honour a much-loved former teacher and principal, as well as reflect its bicultural journey. Sarah Foy reports on the korowai to be woven for Sacred Heart Girls College.
When Diane Kawana wrote, birds fluttered into the words.
It came from her background – a childhood growing up on the West Coast of the South Island as the daughter of a coal miner.
"That's why she loved things like birds and the bush and that comes through in her writing," recalls her daughter, Eve Kawana-Brown.
A korowai, or cloak, is being created in Diane's honour, and it will feature feathers, including those from a weka.
That's poignant because Diane's grandfather's name was Teone Weka Huria; Diane was born in Kaiapoi and is from Ngāi Tūāhuriri hapu and the South Island iwi Ngāi Tahu.
Following on from a family reunion, a whānau member, Ian Dick, gifted a piece of greenstone and carved it into a heart at the family's request.
It is now treasured at New Plymouth's Sacred Heart Girls College, where Diane served as principal, and worn on significant occasions.
The korowai will have a similar status of taonga, a treasure kept at the school and able to be worn on significant occasions by a school leader – student or staff member.
When Diane died in May 2015 the school began thinking about how to honour her.
A language and English teacher at Sacred Heart from 1989, and principal from 2001-2007, a plaque or building in her honour would have been standard practice.
Yet it would not have embodied Diane, says current teacher and long-time friend,Pauline Koorey.
"Creating a korowai seems a more fitting thing to do because when I think of it, I think of something wrapping up and taking people in.
"For me it's not only about Diane's way – and when I say her way, I mean she was pretty straight up – so it was not only about commemorating her, but a way of demonstrating what we are trying to do with our bicultural efforts at Sacred Heart."
It is also an acknowledgement, says Pauline, of the school's founders who were inspired by Euphrasie Barbier in establishing Sacred Heart in New Plymouth in 1884. (Her order made a major contribution to Māori and Pākehā education, according to Te Ara, the Encyclopedia of NZ.)
When Pauline first suggested a cloak she wasn't sure of the reactions and the cultural protocols. Current principal Paula Wells had invited ideas. Pauline went into her office with some trepidation.
While New Zealanders may like to think of themselves as bicultural, the reality is more fraught, she says. "We're still just taking baby steps."
For the family, however, the korowai idea was entirely apt.
"It was a conversation we had with the school the year after she died – it was comforting, a beautiful thing," recalls Eve. "People are honoured, but we hadn't thought about something like this."
Since those initial conversations, the project has been percolating with an official launch in February this year.
The school board and Mission College New Plymouth Trust Board back it, and now fundraising is underway so that local weaver Joanne Ngaia can begin the process.
Joanne, a kaiako (teacher) at Te Wānanga O Aotearoa in New Plymouth, was surprised and honoured when approached about creating the cloak, a job she will take on with the assistance of another local weaver, Mako Jones.
Jo takes part in Waka Ama events with Diane's son, Charlie.
At her first meeting with the whānau and school she outlined options including contemporary versions of a korowai.
"But when they talked about their Mum and how important she was to them and to the school I supported a traditional one to give her the mana that she, the whānau, and the school deserves."
It's quite an undertaking, says Jo, as she talks through the logistics of sourcing the right variety of harekeke (flax) from which to extract the muka, the inner fibre of the plant.
A dry hot summer curtailed growth on the harekeke varieties that Jo usually harvests from, and while she has permission to use plants in Te Kuiti, getting there in the right weather has proved tricky.
All up, 600 vertical strands (muka whenu), similar in length and about 2cm in width, are required. Then there are 50 aho or weaving threads also made of muka. "You have to break them down into a thickness not much thicker than cotton. The aho stitches it all together."
The cloak will also contain feathers, all of a certain size with regularity in the shaft to ensure they don't break. And swinging from the sides is the karure, the black tassels that add a decorative finish.
"The type of weaver I am means if it's not right I wouldn't use it. Mako is the same. We want to make sure that the parts are correct and perfect.
"The preparation is the most time consuming but once you begin the korowai, that's something we can work on at any time."
The first line, called aho tapu, is sacred and will lay the foundation for the rest of cloak; after that things can take on a rhythm and progress more quickly.
Pauline Koorey says videos at different stages will record the steps, with New Plymouth's Keith Finnerty, of Cat and Mouse Productions, gifting his time.
"We've had good guidance on the project and taken our time – it's been important not to rush it.
"I know it's a great symbolic representation of who Diane was, what we are trying to be as a school and how the sisters of the mission wanted us to be."
Jo agrees: "Because of her significance it needs to be something that reflected her story, her commitment to education over the years; so there will also be an aspect to the korowai of marking each year she was in education."
"I feel like they are giving us the opportunity to let Mum's mauri benefit future students more so than a building would," says Eve. "It feels like her spirit will be intertwined into the korowai. I think this will help people beyond her earthly influence."