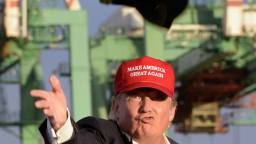 Vancouver restaurant manager fired for refusing service to customer wearing 'MAGA' hat
WATCH: Parent of Santa Fe High School student criticizes MAGA hat-wearing, gun-toting man who arrived to 'Make America Great Again'
Change Location
Newscasts & Videos
U.S. Republican presidential candidate Donald Trump throws a hat to supporters during a rally aboard the USS Iowa battleship moored in Los Angeles harbor, in San Pedro, California on Sept. 15.
A manager at Vancouver's Teahouse restaurant has been fired for refusing service to a customer wearing a "Make America Great Again (MAGA)" hat.
The red baseball caps formed an important part of U.S. President Donald Trump's 2016 campaign, and have become iconic symbols of his supporters.
But the hats have also sparked controversy among many who call them symbols of racism, bigotry and anti-gay hatred.
In a statement, the Sequoia Company of Restaurants, which owns the Teahouse, said the employee was terminated for violating its "philosophy of tolerance."
"Sequoia does not support intolerance of any kind, and it is because of these principles that we cannot discriminate against someone based on their support for the current administration in the United States or any other bona fide political party," reads the statement.
WATCH: Parent of Santa Fe High School student criticizes MAGA hat-wearing, gun-toting man who arrived to 'Make America Great Again'
"The employee in question is a good person with a big heart and has a right to his personal beliefs. However, as a member of our management team, he is expected to abide by and promote our company's philosophy of tolerance and respect when representing our Restaurant."
It's not the first time a MAGA hat has sparked controversy north of the border.
Last year, an Ontario judge who wore one of the red caps in court was suspended without pay after an oversight body found the action was a "single aberrant and inexplicable act of judicial misconduct."
And back in 2016, a student at Calgary's Mount Royal University sparked controversy when a video of a confrontation between him and another student went viral.
— With files from The Canadian Press
© 2018 Global News, a division of Corus Entertainment Inc.
Want to discuss? Please read our Commenting Policy first.
On Air Now