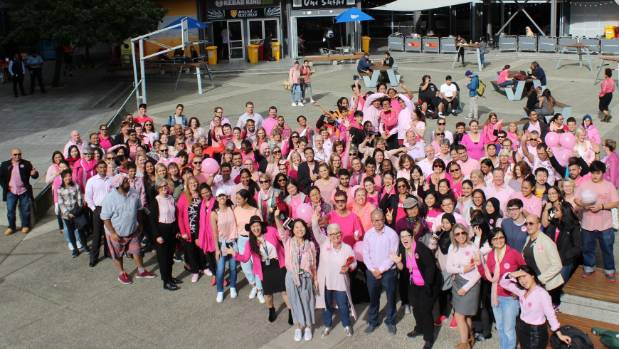 University students and staff stand together against bullying
On Friday, Auckland University of Technology wore pink as a call to action against bullying.
Students and staff celebrated Pink Shirt Day with baked goods, a free barbecue lunch, and a dance performance.
Pink Shirt Day began in Canada in 2007 when two students encouraged people to wear pink shirts as a stand against homophobic bullying after noticing a younger student being harassed for wearing pink.
Staff who worked in harassment prevention and support, student groups such as OUT@AUT and the university's student association AUTSA organised the event in Auckland's CBD.
READ MORE:
* Show of pink – school's zero tolerance for bullying
* College students lay the 'smack down' on bullying with help from cardboard cutout of Dwayne 'The Rock' Johnson
* South Canterbury ready to go pink in stand against bullies
AUT's rainbow community manager Aram Wu said there was no place for bullying and it was important for people to make a stand together.
Students and staff wrote messages such as "appreciate the difference" and "everyone does to live and be their authentic self without fear".
OUT@AUT president Jennifer Daruwalla said the day helped reflect on the bullying that takes place in New Zealand.
"I have bullied and I have been bullied – I know what it's like to be on both sides and it hurts," Daruwalla said.
"Despite it being 2018 bullying is still an issue and it's not exclusive to children."
She hoped the event would create a call to action, open conversations and spark kindness, she said.
Daruwalla was happy with how many people attended the school's event and were wearing pink this year.
"University is a good time to inform people on huge issues."
AUTSA president Dharyin Colbert said the event highlighted important topics involving mental health, especially in regards to the country's high suicide rates.
"We want to create the best possible environment for our students to achieve," Colbert said.
"We need to be inclusive and respectful of our diversity. AUT is one of the most diverse universities in the country."
The day was all about respect, inclusion and awareness, he said.
AUTSA's general manager William Watterson said the goal was to shift attitudes and behaviours.
"We have all bullied and have been bullied – its about building communication, understanding, and challenging students and staff to open their minds."