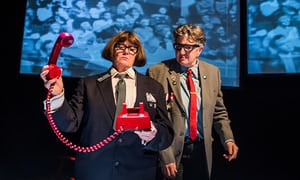 Unexploded Ordnances review – enter the doomsday duo's Strangelove situation room
Barbican, London
This two-hander draws the audience right into the action in a surreal yet moving look at mortality
We all know we will die. But we bury our heads in the sand. Lois Weaver and Peggy Shaw, the New York performance duo Split Britches, have been working together for almost 40 years and are getting on a bit themselves. They sound the sirens in this jokey but often moving examination of the traces we leave, the futures we fail to make and the buried regrets that lurk like unexploded bombs.
Shaw and Weaver harness the surreal absurdities of Stanley Kubrick's 1964 cold war movie Dr Strangelove, casting themselves as the megalomaniac general who has unloosed potential nuclear armageddon and the bumbling president who attempts to stop things going bang.
In the movie, the president sets up a war room, but here Shaw and Weaver set up a situation room. They invite the oldest members of the audience on to the stage to share their dreams, worries and collective experiences, in the hope of avoiding disaster and imagining the future we want for ourselves and our children's children.
It's a messy show, often at its vibrant best when Shaw and Weaver's relationship is part of the weft and weave. The one-hour countdown means it doesn't feel as if it has enough time to breathe – and on the night I was there, the audience participation felt too rushed and insubstantial. But one of its pleasures is the way it nudges all of us present to take responsibility for the future, even as it flamboyantly waves our mortality in our faces.
• At the Barbican, London, until 19 May. Box office: 020-7638 8891. Then at Take Me Somewhere festival, Glasgow, on 26 May.