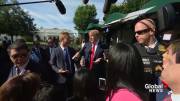 Trump's former campaign chairman Paul Manafort in solitary confinement: lawyers
WATCH: Trump says he feels "badly" for Manafort, Cohen
Change Location
Newscasts & Videos
WATCH: Trump says he feels "badly" for Manafort, Cohen
Lawyers for Paul Manafort, President Donald Trump's former campaign chairman, say their client has been in solitary confinement as he awaits trial on financial charges.
The lawyers say Manafort is locked in a jail cell in Virginia for 23 hours a day, excluding visits from the attorney general, and has been in solitary confinement because the facility can't guarantee his safety.
Manafort was jailed last month after a federal judge revoked his house arrest over allegations of witness tampering in special counsel Robert Mueller's investigation.
READ MORE: Former campaign manager Paul Manafort to appeal jailing order while awaiting trial
His lawyers are asking a federal appeals court to overturn the judge's order and release him under certain conditions as he awaits trial later this month in Alexandria, Virginia, and later in Washington, D.C.
The lawyers say his detention makes it "effectively impossible" for Manafort to prepare for trial. They also say U.S. District Judge Amy Berman Jackson, who is presiding over Manafort's case in Washington and who ordered him to jail, did not analyze carefully enough whether Manafort had actually committed witness tampering
WATCH: Judge sends Paul Manafort to jail
"Independently, the alleged evidence of obstruction is so thin that it cannot reasonably support the determination that no set of conditions could ensure Mr. Manafort's appearance and the safety of the community," Thursday's court filing states.
Manafort is one of four Trump campaign or White House aides to have been charged in Mueller's investigation. Three others — George Papadopoulos, Michael Flynn and Rick Gates — have pleaded guilty and agreed to cooperate with investigators.
© 2018 The Canadian Press
Want to discuss? Please read our Commenting Policy first.