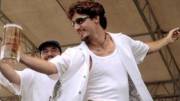 Trudeau says he 'did not act inappropriately' in latest comment on anonymous groping allegation
WATCH ABOVE: Prime Minister Trudeau addresses groping claims
Change Location
Newscasts & Videos
WATCH ABOVE: Prime Minister Trudeau addresses groping claims
Prime Minister Justin Trudeau says he is "very confident" that he did not act inappropriately when asked Thursday about an anonymous allegation made almost two decades ago that he groped a newspaper reporter while at a music festival in British Columbia.
WATCH: Trudeau says he 'did not act inappropriately' in latest comment on anonymous groping allegation
Speaking to reporters following a meeting with Premier Doug Ford at Queen's Park, Trudeau was asked why he has not appointed an independent investigator to look into the allegation published in the Creston Valley Advance in 2000 in which an unnamed writer accused him of "groping."
READ MORE: No memory of 'negative interactions,' Trudeau says of groping allegations from 18 years ago
The allegation includes inconsistent dates and the woman believed to be the writer has reportedly asked media not to contact her.
The writer who made the allegation has not come forward, but photos of the printed column have been circulated online since early June.
"Obviously this is a situation that has been very much on my mind over the past two weeks," Trudeau said.
"I am confident that I did not act inappropriately, but part of this awakening that we're having as a society … is that it's not just one side of the story that matters, that the same interactions can be experienced very differently from one person to the next and I am not going to speak for the woman."
WATCH BELOW: Woman who accused PM of groping may have had 'different' experience: Trudeau
According to the anonymous column, the encounter happened on Aug. 3, 2000, while a reporter was covering the Kokanee Summit, a music festival, and Trudeau apologized the next day.
But as has been previously noted, the festival in question took place that year on Aug. 5 and 6.
The column was published on Aug. 14, 2000.
WATCH BELOW: No memory of 'negative interactions' says Trudeau of 18-year-old groping allegation
Trudeau also explained why he apologized to the reporter.
"If I apologized later, it would be because I sensed that she was not entirely comfortable with the interaction that we had," he said.
Trudeau then noted that "even when the original editorial came out at the time, I was fairly confident, I was very confident," that nothing inappropriate had taken place, but noted that the situation might have been experienced differently by the woman.
He said he has not reached out to the woman.
© 2018 Global News, a division of Corus Entertainment Inc.
Want to discuss? Please read our Commenting Policy first.