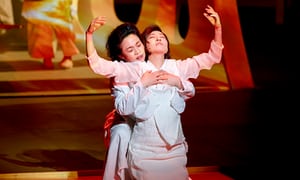 Trojan Women: the Greek tragedy that became a queer Korean opera
A bold new show retells the Euripides classic through traditional pansori, K-pop and the story of 'comfort women' in the second world war
In 1991, Ong Keng Sen directed Euripides' Trojan Women in a granite quarry in Singapore in the wee hours of the morning. He chose Jean-Paul Sartre's 1965 adaptation, a fiery indictment of the Indochina wars, which styled French colonialists as the conquering Greeks and the Vietnamese as bereft Trojans, facing the death and destruction of their people. He cast expatriates to Singapore as the Greeks and Singaporeans as the Trojans.
More than 25 years later, the Singaporean director – who made a name for himself reinventing western classics through Asian performance – is once more remixing this ancient Greek tragedy about the suffering of women in the aftermath of war. This time, for a show that will be staged at London's international festival of theatre, he has chosen to use the Korean pansori, the beloved genre of musical storytelling performed by a solo singer and drummer that stretches as far back as the 17th century. The Korean opera form of the changgeuk incorporates the pansori style of singing. Its sound is guttural and husky, making use of the voice's lower registers. "Think of your natural voice when you wake up in the morning," says the globetrotting Ong, speaking via Skype from Charleston, South Carolina, where he has another show opening at the Spoleto festival this month.
Ong's fascination with the pansori began in 1998, on a trip to South Korea. "Usually in Asian cultures, there's a kind of lodestone of cultural heritage and of performance that could take various forms. For example, in Kerala, it's kathakali and koodiyattam, the performing arts forms that influence everything else, from ritual to everyday life, from high performance to low performance," he says. "In Korea, I felt it was music." There, he attended a performance by pansori superstar Ahn Sook-sun, one of the country's "national living treasures". How wonderful, he thought, to direct a changgeuk one day. "But I was in my 30s and it felt quite far away – it was more like wishful thinking and I shelved it."
The dream has since come off the shelf: the National Changgeuk Company of Korea approached Ong to collaborate with them in 2013. He quickly decided that he would not stage one of the few extant pansori. There are only five surviving full-length pansori pieces in existence, and seven fragments. "I knew there was going to be some kind of controversy if we reinvented one of them because there are only five, and it's very precious. Imagine rewriting Handel, for instance, and calling it Handel's music."
A classic story seemed to be good neutral territory on which to construct Ong's experiment. "I felt there was a lot of synergy between Greek theatre and Korean traditional forms. Greek theatre is epic, the emotions and passions are huge – they are not daily life emotions. You can imagine Medea, for example, being sung in changgeuk and pansori," he says. He suggested Trojan Women because so much of Korean culture is about the ajummas – "the Korean mamas and Korean women", who "suffer but at the same time … are extremely fiery and passionate".
Ong's goal was that this new changgeuk would eventually become part of the canon, something South Korea could lay claim to. He invited playwright Bae Sam-sik to adapt the play in a way that "reverberates with a Korean consciousness [and] doesn't feel like a translation". Ahn, whose voice captured Ong so many years ago, composed the pansori for Trojan Women orally, with a dedication to perfection that made her "cough up blood": rupturing the blood vessels in her vocal cords from singing every line repeatedly until she had the melodic nuances just right.
Ahn's work is complemented by that of composer Jung Jae-il, whose music for the chorus draws on K-pop. Ong says: "The thing that was attractive about the whole thing to me is that they didn't see K-pop as something far away from pansori." This blend of high and low musical forms serves a deeper function. Ong was interested in the idea of these chorus women, taken as slaves, carrying within them the music of their homeland. He thought of how music from Africa moved across to the Americas with the slave trade, of the hymnals and the rituals that slaves were prohibited from singing and conducting, but preserved in private. Ong connected this with the tragedy of Korean women in war, and the history of "comfort women": women and girls forced into prostitution during the second world war by the Japanese army. It's the source of a deep rift between the two countries, who continue to disagree on the degree of coercion and the extent of the brutality inflicted.
"The Trojan women would carry their original music from Troy into new lands through the chorus of women. If you're part of the royal family, it's almost certain that you'll be killed off sooner or later. If you're the queen mother, or the princess, you wouldn't be allowed to live. So it's the commoners who would carry the music, which would be almost completely transformed in the new lands, but they would have certain sounds that came from Troy and their tradition."
While attempting to build a canonical work, Ong has also managed to subvert it by queering the role of Helen of Troy. Ong wanted to situate Helen as an outsider, separate from and vilified by the Trojan women, the survivors of the war. Helen ought to have a transgressive quality, he felt, as a character caught between two worlds but part of neither. The role is played by male performer Kim Jun-su, who is something of a pop icon in pansori and often takes on Romeo-type characters. Ong's translator whispered to him as they prepared for the premiere in Seoul, where the show was extraordinarily well received: "It's amazing that you're doing this in the National Theatre of Korea – to have a male singer singing Helen."
• Trojan Women is at the Southbank Centre, London, 2-3 June. Box office: 020-7968 6800.