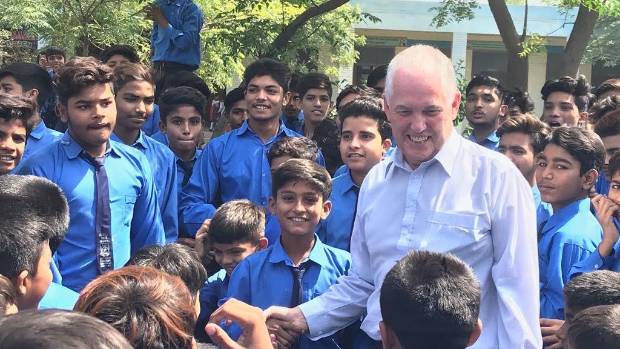 'They couldn't believe our teachers had laptops and school apps'
Guards armed with machine guns, rote learning and poverty wages are standard conditions for schools in Pakistan, a Taranaki principal discovered.
"They couldn't believe that our teachers had laptops and school apps," Francis Douglas Memorial College (FDMC) head Martin Chamberlain said after he and his wife, Claire, spent 25 days in the South Asian country as part of his principal sabbatical.
They were there to visit FDMC's fellow Lasallian schools, which are part of a Roman Catholic religious teaching order.
"A tourist has to be very careful about generalising about a country and our view would be, I suppose, a very sanitised one," he said.
They spent a lot of time either in the Lasallian compounds – "where there are armed guards outside with machine guns; that's a government requirement for all schools" – or going from school to school.
READ MORE:
* Schoolboys to help family with rare illness quest
* One school, three All Blacks: How a small Taranaki college became a rugby star factory
* Francis Douglas Memorial College students take project on penguins' plight to the world
He said he saw big differences in education.
"We feel that kids are more worried about collecting credits than they are about learning. Over there it's even worse; it's like we were two generations ago.
"The expectation was that they would learn it and regurgitate it in the exams."
He said he had to be careful in suggesting creative ideas, because rote learning was the accepted practice.
"If a teacher did allow too much creative discussion and that took away from what you were learning for the exam, you'd flunk the exam. You're stymied by what the management system wants to do.
"Everyone had to learn the same essay and produce it in the exam, and that's not deep learning."
The schools are also vastly different: concrete classrooms, chalkboards, and fans to alleviate the 40 degree heat. Teachers are highly respected but some are paid the equivalent of only NZ$1800 a year – up to NZ$4800 in some of the better schools.
"If Pakistani children had the resources our children do they'd see the value in them."
FDMC continues to fundraise for the schools, including their twin, Malkhan Wala High School, and hoped to send some toys and puzzles, he said.
"I'd like to see us send toys and resources but also to send some teachers over there to help them with their own English and with teaching English.
"I'd like now to see our staff have the opportunity."
"