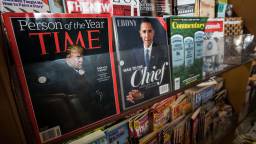 The U.S. is revoking tariffs on some Canadian paper. Here's why that's no beacon of hope for steel
READ MORE: Here's the final list of Canadian retaliatory tariffs taking effect against Trump on July 1
Change Location
Newscasts & Videos
Time magazine featuring President Elect Donald Trump as its "Person of the Year'" pictured at Chapters in Kingston Ont., on Dec. 21, 2016. THE CANADIAN PRESS IMAGES/Lars Hagberg
The United States has agreed to revoke a tariff placed on some Canadian paper products in 2015 and pay back the millions it collected from the imports.
Yet despite the move coming after a scathing World Trade Organization review, it's likely no beacon of hope for a similar outcome for steel and aluminum.
READ MORE: Here's the final list of Canadian retaliatory tariffs taking effect against Trump on July 1
Both are facing steep new tariffs of 25 and 10 per cent, which were imposed at the end of May by U.S. President Donald Trump and caused Canada to impose $16.6 billion worth of retaliatory tariffs on July 1.
"I'm afraid we can't take much hope from this paper decision," said Gary Hufbauer, a senior fellow with the Washington-based Peterson Institute for International Economics.
"It's not like steel … the politics and economics are completely different than these big cases that are roiling the political landscape right now."
WATCH BELOW: White House says no timetable for how long tariffs on Canada, Mexico will be in place
The case in question started back in 2015.
That's when U.S. President Barack Obama imposed duties ranging from between roughly 18 and 20 per cent on Canadian paper producers in Nova Scotia, Quebec, New Brunswick and B.C.
The tariffs being revoked now are not the same as other tariffs on Canadian paper that were imposed in January 2018, which target uncoated newsprint and have been widely criticized for causing a sharp spike in printing costs to American newspapers.
A decision on whether to revoke or make permanent those tariffs is due at the end of this summer.
As for the tariffs being revoked and refunded, those deal specifically with supercalendered paper, which is also uncoated but has a shinier finish.
Because of that, supercalendered paper is often used in magazines and catalogues.
READ MORE: U.S. newspapers feeling the effects of tariffs on Canadian newsprint
The 2015 tariffs came in response to a complaint by Verso, an American paper producer, that Canadian companies making supercalendered paper were unfairly subsidized.
After filing for and emerging from bankruptcy in 2016, Verso agreed earlier this year to drop its complaint in exchange for roughly $42 million of the refunds being sent back to Canada from the Commerce Department.
On July 6, the U.S. Department of Commerce officially agreed to the deal.
WATCH BELOW: A guide to buying Canadian-made products
That decision also came one day after the WTO published a report saying the tariffs violated numerous trade rules.
On July 10, Foreign Affairs Minister Chrystia Freeland said Canada welcomed the news and stressed the close trading relationship between both countries.
"No two nations depend more on each other for their mutual prosperity than the United States and Canada," she said.
"Our relationship supports millions of middle-class jobs on both sides of the border. The WTO panel report supports fair and due process for the Canadian forestry industry and for Canadian workers."
READ MORE: Here's how Canada's new tariffs on U.S. imports could impact your weekly shopping bill
Trump imposed the tariffs of 25 per cent on steel and 10 per cent on aluminum from Canada, the European Union and Mexico on May 31.
He had imposed them on other countries in March but the three had secured temporary exemptions.
Trump had hinted he would consider making the exemption for Canada and Mexico permanent if they caved to his demands on NAFTA negotiations.
The negotiations are stalled on several contentious sticking points, such as the inclusion of a sunset clause.
WATCH BELOW: Canada-U.S. trade tiff continues
Canada, the European Union and Mexico almost immediately announced they had submitted challenges of the tariffs to the World Trade Organization.
But Hufbauer says he is not optimistic that a favourable response by the WTO to the paper tariffs will indicate good things lie ahead.
'I wouldn't read a lot of optimism in terms of a more sensible approach to U.S. trade policy more generally from this one case," said Hufbauer.
He pointed to two key differences between the paper tariff and those on steel and aluminum.
COMMENTARY: Trump doesn't want a NAFTA deal
First, the lobbying efforts and support among Trump's base for the steel tariffs mean abandoning them or bowing to any potential WTO ruling could be much more politically difficult than getting rid of the paper tariffs, which targeted just a couple of Canadian producers at the request of only one American company.
Second, the tariffs were imposed under completely different provisions in both cases.
The paper tariffs were imposed as regular countervailing duties.
The steel and aluminum tariffs, however, have been imposed under controversial Section 232 of the U.S. Trade Expansion Act.
That provision allows for the imposition of tariffs on grounds that imports pose a "national security threat" to the United States.
"While I think the national security claim is bogus, I'm very doubtful the WTO will even address the national security claim because that's been the practice on past national security issues," Hufbauer said.
"It would be a mammoth legal reversal for the WTO to start to evaluate national security dimensions of the steel and aluminum claim. It's possible but it would be extremely confrontational because the U.S. government believes it's the only one that can define national security."
Freeland has said "intense" NAFTA negotiations will resume this summer.
No dates have been officially set at this point.
© 2018 Global News, a division of Corus Entertainment Inc.
Want to discuss? Please read our Commenting Policy first.