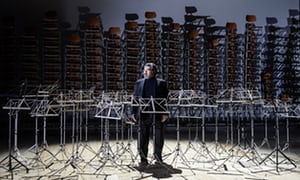 The String Quartet's Guide to Sex and Anxiety review – strange and beautiful
Birmingham Rep
Calixto Bieito's intense theatrical collage brings together four first-rate actors and the miraculous Heath Quartet
Calixto Bieito, as anyone who has seen his productions of Calderón's Life Is a Dream and Bizet's Carmen can testify, is infinitely more than a Catalan shock merchant. He is deeply sensitive to words and music as this highly original 90-minute theatrical collage proves.
Works by Ligeti and Beethoven played by the miraculous Heath Quartet echo and reflect the angst displayed by four actors calling on a wide variety of literary sources.
At times I was reminded of Radio 3's excellent thematic programme Words and Music, but this show is more obsessive and intense. Ligeti's String Quartet No 2 (1968) has a memorably frenetic quality and Beethoven's String Quartet in F Minor (the Serioso) is edgy and experimental. The music itself is dramatic while the four actors are almost musical in their exploration of the multiple forms of anxiety.
Each seizes on a different motif. Cathy Tyson, telling a story of a child's accidental death, embodies the desperation of grief. Mairead McKinley, relying on work by Michel Houellebecq, shows how sexual fixation can be destabilising. Nick Harris deploys texts that illustrate the ravages of daily depression. Meanwhile, Miltos Yerolemou frames the action with readings from Robert Burton's The Anatomy of Melancholy, which tells us it is "an inbred malady in every one of us".
This is not some high-toned recital, but a genuinely theatrical event. The Heath Quartet, when not playing, are drawn into the action as the actors make expressive use of their music stands; Tyson lays out hers like a dead child. There is also a visual coup involving the mountainous wall of stacked chairs at the back of the stage.
The idea that anxiety is universal and that music possesses a healing power, symbolised by the way the actors seem magnetised by the quartet as the latter play the Beethoven, may not be startlingly new. But Bieito, aided by first-rate musicians and actors, has created something rather strange and beautiful: when you listen to the tense whisper of the strings in the final movement of the Ligeti and to Burton's analysis of a life without faith, you get closer to the heart of darkness.
• At Birmingham Rep until 19 May. Box office: 0121-236 4455.