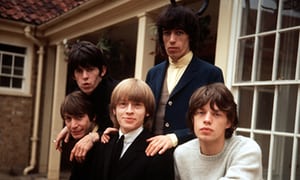 The Rolling Stones – every album ranked!
As the indestructible rock'n'rollers begin their No Filter tour, we rank each of their 23 albums, from their 1964 eponymous debut to 2o16's Blue & Lonesome
The best moments on Dirty Work come when the atmosphere of intra-band animosity in which it was recorded is channelled into the music: One Hit (to the Body) and Winning Ugly fizz with nasty energy. Elsewhere, it's lifeless, and the period production on Back to Zero has dated abysmally.
Mick Jagger attempts to gussy up the Rolling Stones' sound with samples and loops courtesy of trip-hop producer Danny Saber, and an intransigent Keith Richards responds by throwing Saber out of the studio. Results are as uneven as you might expect.
More stripped down and straightforward than its predecessor, Steel Wheels, this isn't a bad album, exactly, but it sounds as if hard work was involved, the product of craft rather inspiration: tough coming from a band that, at their best, made it all seem effortless. Also, it feels as if it goes on for about six weeks.
An hour-long album without an hour's worth of decent songs, A Bigger Bang wings it on spirit alone. Jagger is in snarling, priapic form on opener Rough Justice, while Oh No, Not You Again and Look What the Cat Dragged In rage along with something of the screw-you spirit of Shattered. Sweet Neo Con, meanwhile, attempts to sock it to George W Bush.
A comeback of sorts, this set the template for latterday Stones albums: solid rather than amazing, a few decent tracks, some obvious filler, the odd lunge for contemporaneity, the sense of feral menace that once powered them noticeable by its absence and the whole business clearly a secondary consideration to going out on tour to crank out the hits.
Most post-70s Stones albums seem rooted in a power struggle between Richards' traditionalism and Jagger's desire to stay relevant. On Undercover, Jagger won: a lot of the then-cutting edge 80s production falls flat, but when it does work, as on the hip-hop-influenced opener Undercover of the Night and Too Much Blood, you can really hear what he was driving at.
The sense that the Stones were losing interest in making albums was hard to avoid when confronted with Black and Blue. It's essentially a collection of jams recorded while auditioning for a new guitarist. When they actually wrote songs – Fool to Cry, Memory Motel – they still sounded great.
Neither the disaster it has been reviled as nor the masterpiece some revisionist critics have claimed, Satanic Majesties is a likable, undisciplined psychedelic mess – Sing This All Together's subtitle, See What Happens, sums it up – flecked with moments of genuine greatness: not just 2000 Light Years From Home and She's a Rainbow, but Citadel and the delicate 2000 Man.
This is the moment when the Stones' excesses began to catch up with them, albeit slowly. It's Only Rock 'N Roll offers sparks of inspiration – Fingerprint File, Dance Little Sister, the title track – amid stuff that sounds suspiciously like formula and filler: that said, compared to what was to come, it's a masterpiece.
A muddled attempt to fit with prevalent pop trends, home to the peculiar sound of the Stones trying to emulate the Kinks' music hall-inspired songs, Between the Buttons' best moments – Connection, Miss Amanda Jones, Back Street Girl – tellingly cleave closest to the band's original blueprint.
By now, the Stones were just slinging together old outtakes to give them an excuse to rake it in on tour, so Tattoo You has no right to be as good as it is: the punk inflections were becoming a bit preposterous (Neighbours), but Start Me Up was the last truly deathless Stones anthem and Goats Head Soup leftover Waiting on a Friend is fantastic.
Or Some Girls Part 2, with more inspiration drawn from disco (Prince definitely paid attention to the fantastic title track) and more punky thrash – incredibly, the cor-blimeyisms of Where the Boys Go suggests someone had been listening to Sham 69. As is often the way with sequels, not quite the match of its predecessor.
The early 60s blues scene was a purists' movement, but their second album demonstrates how eclectic and boundary-blurring the early Stones were, boldly defining a space of their own somewhere between blues, rock'n'roll and soul, amping up the pace and the attitude of each to thrilling effect.
At the point where even the most committed fan despaired of them ever making an unequivocally great album again, they did. You could ask why they didn't return sooner to the blues songs that first inspired them, but the passing of time gives Blue & Lonesome its power. With a lifetime of experience behind them, the Stones sounded as if they really knew of what they sung.
Out of Our Heads is the culmination of what you might call the first era of The Rolling Stones. They are still reliant on tough rhythm and blues and soul covers – their version of Don Covay's Mercy Mercy is great – but Jagger and Richards' songwriting is blossoming: antagonistic on Heart of Stone, gleefully hymning the arrogance of youth on I'm Free.
Greeted with disappointment on release, Goats Head Soup's reputation has been burnished by time: Star Star is a grim entry into the pantheon of questionable Stones songs about women, but the stateliness of ballads Winter and Angie and the grimy funk of Dancing with Mr D and Doo Doo Doo Doo Doo (Heartbreaker) show a band still at the height of their powers.
It's easy to forget what a revolutionary album the Stones' debut was. Still remarkably raw-sounding, it repositioned hardcore, aficionados-only Chicago blues – Muddy Waters, Jimmy Reed – as mainstream pop: everyone who has subsequently tried something similar, from Led Zeppelin to the White Stripes, effectively follows in its wake.
Some Girls suddenly arrested the Stones' mid-70s decline, inspired in part by Jagger's observation of New York at its creative zenith – there is disco on Miss You, and punk on Shattered and Respectable – and in part by the druggy chaos of Richards' personal life. Before They Make Me Run is snarling defiance, but Beast of Burden's meditation on his collapsing relationship with Anita Pallenberg sounds affectingly heartbroken.
The Rolling Stones saved their most audacious mid-60s pop experiments for singles – Paint It Black, Have You Seen Your Mother, Baby, Standing in the Shadow? – but Aftermath still cuts a ferocious swathe through Swinging London. Bracingly hostile from its opening line ("What a drag it is getting old"), its sneering, screw-you attitude is tempered by the dulcimer-led baroque pop of Lady Jane.
Let It Bleed boasts perhaps the most powerful opening in rock history – the four and half minutes of apocalyptic dread that constitutes Gimme Shelter – but it scarcely lets up after that: the filthy strut of Live With Me, a beautiful, mandolin-infused reading of Robert Johnson's Love in Vain, the title track's saga of dissipation, sex and violence.
Few bands sounded so relieved that psychedelia's lysergic adventure was over. On Beggar's Banquet, the Stones sparkle, reinvigorated by reconnecting with roots music on Jigsaw Puzzle and the wilfully nasty Stray Cat Blues. Street Fighting Man and Sympathy For the Devil seem buoyed by the turbulence of the era while Brian Jones provides his own epitaph with No Expectations' desolate slide guitar.
Does Sticky Fingers or its murky, sprawling successor represent the Stones' zenith? It's a photo finish: Sticky Fingers has more focus, Exile more breadth and a more primal, physical thrill, Jagger's voice fighting for space amid the rush of sound. Appalling, diseased behaviour has never sounded as appealing as it does on Shine a Light or Torn and Frayed; the Stones were never more convincing as a country band than on Sweet Virginia.
The late 60s curdling from buttercup-sandwich optimism to grim bleakness could have finished the Rolling Stones: drug busts, deaths, murderous Hells Angels at Altamont. But in truth, it suited them. Virtually from the moment they started writing songs, Jagger and Richards were drawn to darkness: certainly, they were better at depicting decay and decadence than delivering pie-eyed hippy beatitudes. So, on their first post-Altamont album, the Stones sounded simultaneously shattered by recent events and utterly imperious: from Brown Sugar's sleazy riff to the astonishing, weary, string-bedecked closer Moonlight Mile, their claim to be The Greatest Rock'n'Roll Band in the World has no more compelling evidence than the flawless 46 minutes of music here.