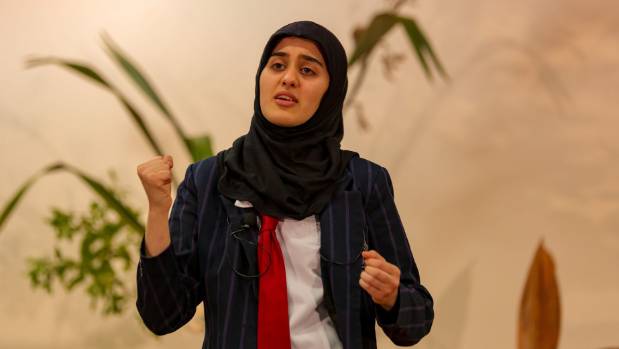 The rise and rise of culturally aware, political and informed Kiwi millennials
Two young women's experiences about living with and tackling racism have helped them take top honours at a national speech competition,
Hena Dugh, 17, of Hastings Girls' High School, won the 2018 Race Unity Speech Award final, a national event for students to express views on race relations, while Zoha Shuaib, of Palmerston North Girls' High School, was runner-up.
Dugh, said she had been personally affected by racism on several occasions.
"There was a certain point in my life when I just realised that it's in one ear, out the other – just ignore them. But it still happens. It's more so around the unconscious bias as soon as you meet someone."
READ MORE:
* Millennials: Are they all about 'me'?
* If millennials are entitled it's because you made us that way
* Millennials are the problem? Yeah, right
Dugh felt that increasingly, younger people were becoming more vocal about issues which mattered to them, primarily through social media.
"It's opened up a whole new way for us to interact with other people, other like-minded people – you just feed off of each other."
Shuaib, also 17, said social media had given young people "universal access" to knowledge.
"We have more access to learn about different people and their experiences, and it makes us more aware of how we're directly affected – because we're listening to stories that mimic our own."
She was also no stranger to racism.
"I had never seen someone that looks like me on that stage at such a pivotal time, when there is so much Islamophobia. I wanted to speak out for my fellow hijabis and much of the racism that is experienced through wearing a scarf."
Last year, when Shuaib was out walking with her sister, a woman pushed her against the wall of a Paper Plus store.
"She told me that I needed to go back to my country and that I was a terrorist. I was just so shocked, I just cried."
That incident opened her eyes to the fact that racism was not limited to any one country, she said.
"I wanted people to know that this is real, and that this is happening now, and that this is happening here."
Victoria University's Dr Bronwyn Wood, whose research specialises in youth citizenship, said today's young people were passionate about issues not necessarily shared with their parents.
In 12 years of research, Wood had not found one young person who did not have an issue they deeply cared about.
"We have a bit of a generation gap of people accusing [youth] of being apathetic because the issues don't necessarily line up with adult expectations or even the formal political expectations," she said.
Wood felt there had been a culture shift over the past 20 years, which allowed young people to hold and express more opinions.
She pointed to a standard offered through NCEA, where students are required to take social action themselves.
About 5500 students a year currently partake in the standard, however that number was growing, she said.
"Young people learn through this to be both citizens and to think logically through issues impacting society."
That standard had proven to be a growing experience for many young people, she said.
"We have some very good data from America that [shows] … practising citizenship when you're young greatly increases your desire and ability to do that when you're older."
Massey University's Dr Richard Shaw, director of the university's Bachelor of Arts programme, said there was an untrue perception that millennials were self-absorbed, lazy and apathetic.
"What I see is a generation of young people from 14, 15, 16, right through to their early 30s, who are really values-driven and highly engaged. It's just that they often engage in different places and spaces to those in which politics has usually and traditionally always been done."
Shaw was seeing an increasing number of youth concerned about the state of the country and world, who were also interested in finding ways to address issues.
Social media enabled youth to draw on a diverse range of sources, and connect with others instantaneously, he said.
"They're using the technology and they're generating leadership from the ground up. I think it's a different way of organising, and I think it will be profoundly influential in the very near future."
"While there are positive signs, we still have a way to go to be the free, fair, safe and just New Zealand, where diversity is valued and human dignity and rights are respected."
Dugh said it was inspiring seeing more young people take an interest in political and socio-cultural issues.
"There are lots of young people out there who are really passionate about these subjects because it is so relevant in our society," she said.
"The future generations are going to be taking over – despite any negative stereotypes of us. We are the future, and it's really good to see everyone getting involved."