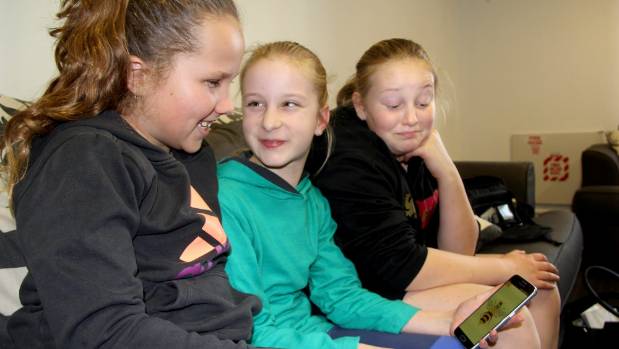 Tech-savvy youngsters bound for San Francisco
They didn't know much more about bees than "they sting and it hurts", but now three Southland girls could take their research to an international stage.
Madi McGearty, Kaycee Winsloe and Sophie Cundall have been working tirelessly for a year and a half on their app, The Beefriend Pi, which helps educate others on the important role the bee plays in our environment.
The girls hope to teach future generations about the steps to take to help the problem of decreasing bee populations.
Since its beginnings, the project snowballed and their award-winning app is now taking them to the World Technovation Challenge in San Francisco in August.
The girls were recently announced in the top 100 of more than 2000 entries, and could pitch their project at the event. ​They will find out on June 17 whether they will pitch.
Ten-year-old Sophie said that before the project they knew little about bees, and nothing of their declining population.
"We didn't know anything except they sting and it hurts," she said.
However, the trio were interested in the environment, especially living and going to school in a rural community, in Makarewa, at the time, so decided to explore the topic.
They gained an invitation to enter the challenge after being awarded a finalist spot at the Southland Environmental Awards, won the prestigious United Nations Environmental Award for their work and were runners-up in the Tech Girls are Superheroes competition.
The challenge offers girls around the world the opportunity to learn the necessary skills to become tech entrepreneurs and leaders. More than 19,000 girls around the world registered to participate this year – and it was the first time a team from New Zealand was selected.
Regardless of whether they get to pitch at the event, Madi said she was "so excited" to attend the challenge.
They will get to meet industry leaders from Google, Facebook, Cisco, Intel, and Salesforce, and be taken on private tours.
In the past year and a half, the girls, from Makarewa School (Kaycee moved to James Hargest College this year), had learnt a lot, including meeting with beekeepers and having a go at beekeeping themselves, she said.
Former teacher and mentor Gabby Asplin said she was proud the students had stuck at it.
They had upgraded and altered the app and played to their strengths, she said.
"The fact that they have stuck at it and reassessed it and haven't stopped – they've realised what direction they want to go possibly caeer-wise.
"What they have learnt they've done out of school, and it could lead to a job. They're learning pretty quick."
The app includes a story, quizzes, links to YouTube videos with tips and a fusion table that has real-time data for people to check on how they are helping.
The girls have secured their flights through an Air New Zealand Airpoints for Schools programme, and have gained sponsorship from Digital Stock, SBS Bank and Focus technology group to attend the challenge.
Digital Stock chief executive Nash Varghese said it was less common to see females in the industry in the Western World.
"This, in my opinion, is a social issue and needs to be addressed. Diversity in tech is a very important issue that is in the forefront of problems identified in the industry.
"It is not just exciting to see a young people from Southland achieve in the world's stage but it's also very exciting to see that they an all-girl team who are very young yet have achieved so much with their app. I hope this is the start for pushing young people in Southland to look at tech as future career option."