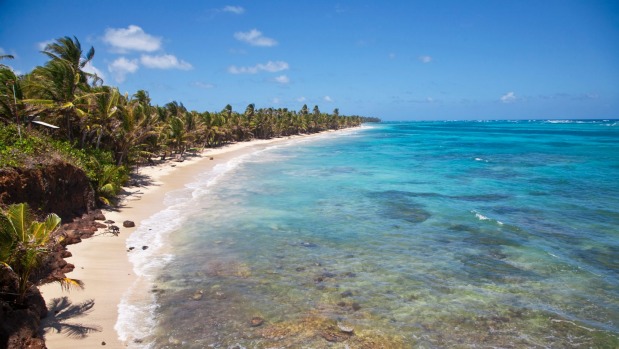 Survivor NZ: Christchurch alternative education manager plans to 'just be me'
Matai'a Salatielu Tiatia thinks he might be the only Samoan guy who can't crack a coconut or catch a fish.
A fan of the US version of Survivor since its inaugural season in 2000, he says his lack of outdoor skills didn't stop him applying for its Kiwi counterpart.
Tiatia, known to most as Sala, is one of 16 contestants trying to outwit, outplay, and outlast each other in the Nicaraguan jungle on Survivor NZ.
"Any person who's watched Survivor, you ask yourself those questions. How would I do? What would I do?," he says.
READ MORE:
* Survivor NZ: No internet and no food nothing new for teen contestant
* Survivor NZ host 'forever indebted' to his wife after missing baby's birth
* How does Survivor NZ compare to other countries?
"This was a chance to put myself in that reality and see if I can."
In his daily life Tiatia, 40, manages Te Kaupapa Whakaora, an alternative education programme and "pit stop" for Christchurch kids who have been excluded from mainstream schools or referred from the youth justice system, among other drivers.
He's been there six years and says he's "constantly celebrating" despite the challenges his job presents.
"It's more than just education; our kids come to us with all kinds of stuff. You're expected to not only educate them but to be their mother, their counsellor, to be their nurse.
"It's very relational and you dig deep and try and understand what happened for them to be here."
He says he approaches his fellow Survivor competitors the same way he talks to his students, by being himself and asking lots of questions.
"You allow a space for honest, raw conversation that hopefully accumulates reciprocal stuff … with relationships you can move forward."
Others may scheme or strategise, but Tiatia says his game plan for Survivor is to "just be me and see how far I can go".
In a show where deceit and betrayal line the path to victory, that may be harder than it sounds.
Tiatia wears his heart on his sleeve – literally. His arm is tattooed with the names of his six children and he says his Christian faith sustains him in times of adversity, including the 40-day absence from his family.
"I have been told many times in my line of work that it [openness] is my biggest strength and my biggest weakness. They will say 'you're never to trust these young people,' he says.
"The biggest lesson [from my life] is that I try not to judge a book by its cover. Everyone's got a story, everyone's got a background and everyone's got stuff.
"What you see isn't always what you get."
Survivor NZ premieres May 7 on TVNZ 2 at 7pm.