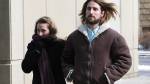 Supreme Court hearing for Alberta parents convicted in toddler's meningitis death
READ MORE: Timeline of Ezekiel Stephan's final days, the Alberta boy who died of meningitis
Change Location
Newscasts & Videos
David and Collet Stephan leave for a break during their appeals trial in Calgary, Alta., Thursday, March 9, 2017
The Supreme Court of Canada is to hear an appeal Tuesday by a couple convicted after they used homemade remedies instead of seeking medical attention for their son who died of bacterial meningitis.
READ MORE: Timeline of Ezekiel Stephan's final days, the Alberta boy who died of meningitis
David Stephan and his wife, Collet, were found guilty in 2016 of failing to provide the necessaries of life to 19-month-old Ezekiel in 2012.
18 month-old Ezekiel Stephan
Their trial in Lethbridge, Alta., heard that they treated the boy with garlic, onion and horseradish rather than take him to a doctor. The Stephans eventually called 911 but the little boy died in hospital.
The Alberta Court of Appeal upheld the conviction last November, but because the ruling wasn't unanimous, the couple had an automatic right to take their case to the Supreme Court.
READ MORE: Parents of boy in Alberta meningitis death to challenge conviction in Supreme Court
David and Collette Stephan leave the courthouse in Lethbridge, Alberta, April 26, 2016, after being found guilty in failing to provide the necessaries of life in the death of their 19-month-old Ezekiel 2012.
David Stephan was sentenced to four months in jail and his wife was ordered to spend three months under house arrest — the only exceptions being for trips to church and medical appointments.
The Crown has indicated it plans to appeal the sentences as too lenient.
READ MORE: Father says 'no room for justice and truth' after Alberta court upholds convictions in son's meningitis death
David Stephan posted on Facebook last week that the hearing is an important one for parental rights.
"Our Supreme Court hearing…will not only effect the future of our family, but the future of all Canadians as this landmark, precedent-setting case is being used to deprive parental rights and health freedoms in Canada," he wrote.
"Our prayer is that the Supreme Court of Canada reverses this newly set precedent and sends our case back to trial so that the whole truth can finally come out, and that the real criminals involved in our case will be brought to light and held accountable."
Witnesses at the trial said the toddler's body was so stiff he couldn't sit in his car seat, so he had to lie on a mattress when his mother drove him from their rural Alberta home to a naturopathic clinic in Lethbridge, where she bought an echinacea mixture.
READ MORE: Naturopath cleared in Alberta toddler's meningitis death
The Stephans never called for medical assistance until Ezekiel stopped breathing. He was taken to a local hospital and died after being transported to Calgary's Children's Hospital.
Lawyers for the Stephans argued before the Alberta Appeal Court that the trial judge allowed the jury to be overwhelmed by medical evidence, which unfairly distracted from the real question of whether the Stephans acted differently than any other reasonable parent.
© 2018 The Canadian Press
Comments closed.
Due to the sensitive and/or legal subject matter of some of the content on globalnews.ca, we reserve the ability to disable comments from time to time.
Please see our Commenting Policy for more.