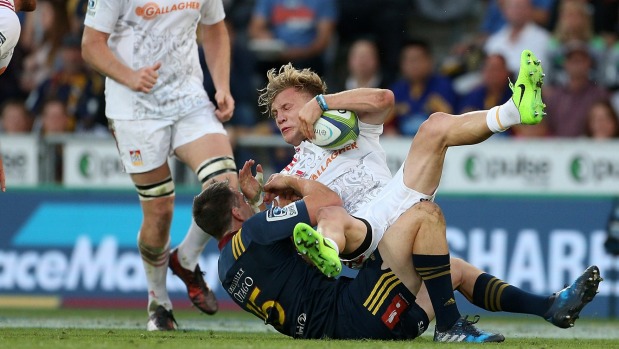 Steve Tew: We're changing rugby with zero tolerance culture towards concussion
OPINION: No-one wants to see rugby players at any level of our game suffering head injuries and concussion.
Despite recent media commentary, concussion is a subject New Zealand Rugby takes very seriously and consequently has an extensive work programme in place to protect the heads and long term health of the 155,000 Kiwis who play the national game.
Alongside World Rugby, we have committed to a zero-tolerance culture regarding head contact at all levels of rugby, from Small Blacks to All Blacks. This stance is important because it sends a clear message to every player, coach, team doctor, referee and supporter that the "she'll be right" attitude of yesteryear is unacceptable.
The ultimate reinforcement of this position are World Rugby's new laws lowering the height of a legal tackle and increased sanctions for illegal tackles. Put simply, these changes will, over time, change the way the game is played. The head is a no-go area and players are being penalised if they make contact with it. In the first six week of this year's Investec Super Rugby competition referees issued 57 yellow cards compared to 39 at the same period last year, a 46 per cent increase. And three red cards have been issued compared to one last year.
READ MORE: * Concussion sidelines Laulala and Cane * The mythical SBW * Can NZ remain undefeated? * Inside rugby's unappreciated art
But this isn't all about professional rugby. The area we can make the biggest difference is at the grassroots level. This year New Zealand Rugby became the first national rugby union in the world to introduce a Blue Card concussion initiative. The initiative, which has been introduced in our 14 largest Provincial Unions for all adult rugby, means referees can issue a Blue Card and remove a player suspected of receiving an on-field concussion during a game. After receiving a Blue Card a player can't return until they have completed a series of mandatory steps, including a three-week stand down from training and playing and a medical clearance.
These initiatives to tackle concussion are informed by research. Last year World Rugby announced key findings from a ground-breaking study that examined videos of more than 600 incidents leading to head injury assessments occurring across 1516 elite-level matches globally between 2012 and 2015.
The study found that 76 per cent of head injuries occur in the tackle, interestingly 73 per cent of head injuries in the tackle occur to the tackler and the tackler is 40 per cent more likely to sustain an injury when upright or high in the tackle than when bent at the waist.
We are in the process of ensuring our programmes reinforce its findings, but already our Rugby Smart coaching programme, for every rugby coach in the country, teaches coaches how to recognise the signs and symptoms of concussion, as well as teaching players how to make lower tackles. "Safe technique is effective technique" is the mantra. We are also piloting a concussion education program in high schools. In conjunction with education sessions school age players are being asked to complete baseline concussion assessments, which can be used by their doctor if they sustain and head knock to assist in the diagnosis of a concussion.
These programmes sit alongside 36 other initiatives that World Rugby has taken since 2012 to reduce the rates of concussion and New Zealand Rugby continues to support its medical staff to remain fully informed of the latest trends here and abroad in concussion management.
Ultimately this is all about keeping our players safe and able to enjoy playing. I was lucky when I played that I never had a serious head knock. But if I had there would not have been the systems in place to support me.
Just as we have made remarkable gains in reducing the rates of spinal injury through better player and coach education and stronger rules, I am confident we will achieve similar outcomes with concussion. That will require a cultural change of which we are only at the starting point. While wholesale change doesn't happen overnight, with the right leadership, medical and education programmes and rules and disincentives in place we will improve our player's wellbeing.
* Steve Tew is the chief executive officer of the New Zealand Rugby Union.