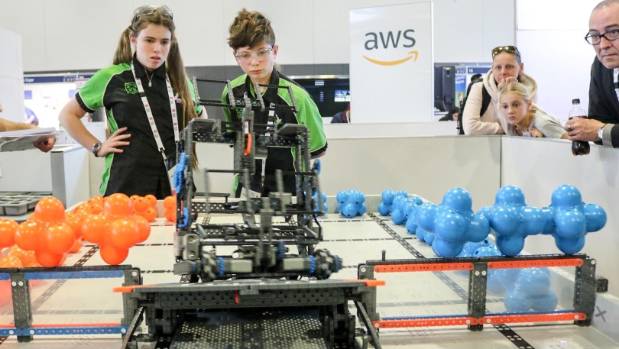 St Peter's College builders construct champion robot to win WorldSkills title
There's not much the SPCBots team can't build if you give them a box of robotics gear.
That's the two teams of year 8, 9 and 10 students from St Peter's College who went to the WorldSkills Australia VEX IQ robotics championships in Sydney earlier this month, and one of them won the title.
The two-person teams had three days, starting from scratch, to build and programme a robot, then put it to use.
The St Peter's team one – Anna Skiffington and Charlie Mollard​ – who went under the moniker of New Zealand team one, won five of the six rounds to become WorldSkills champion.
READ MORE:
* Students beaming into classroom
* A Celestial talent
And to complete the domination, the school's second team of Denz Shinoy and Reuben Mascarenhas​ won the other round.
Mascarenhas and Shinoy overcame early software problems to make a late run and finished fourth.
Teams had six rounds where the robots had to pick up balls and move them to the other side of the robot arena to score a point. Then the two competitors had 45 seconds each to do as much as they could in that time.
Stephan​ van Haren, the head of robotics at St Peter's, said it was a huge event.
"Students are given two boxes of gear and they have to build it," he said. "They have to put it all together on the first day. They have to put in motors and the brain which controls the motors.
"If they have sensors, the sensors can tell the brain what to tell the motor to do."
The winning robot will be used as a demonstration model and in return the team will get a new super-kit to replace the missing parts.
The teams' next event is the regional competition at Feilding High School at the end of the month, as well as Central Robotics competitions every month.
The national championships are in Palmerston North in December.