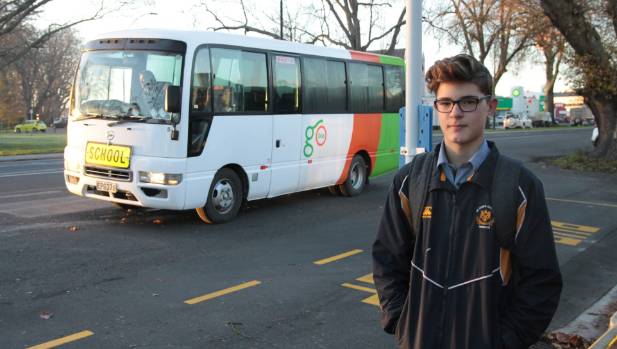 St John's College parents lose battle to save bus route for Cambridge students
Cambridge students commuting to Hamilton's St John's College will have to start paying public bus fares from the start of term 3.
Their free school bus service ended on Friday, July 6, after parents and the college unsuccessfully lobbied the Ministry of Education for it to remain.
It was estimated it could cost up to $180 per student per month to make the 20km trip from Cambridge to the college in Hillcrest and back home.
St John's College principal Shane Tong thought it would roughly be about $1600 a year per student.
"For some of our rural families, that could be the difference between them being able to access Catholic education or not.
"It's disappointing."
Originally, the ministry planned to withdraw 10 bus routes in the Waikato by July 2018 where alternative public routes could be used.
The cut was scaled back to two. It included the route from Morrinsville to Sacred Heart Girls' College in Hamilton, which would remain until July 2019, pending a review of the service.
The other was the Cambridge to St John's route, used by about 10 students.
Their parents had met with the college and Go Bus to discuss other options, but a solution could not be agreed.
One option was for the boys to use the Sacred Heart Girls' College bus service from Cambridge to Hamilton.
St John's College offered to collect $100 per term per student to pay to Go Bus to use the bus, but the offer was rejected.
One of the parents, Michael Macrides, said Go Bus wanted to charge standard public rates, even though the Sacred Heart Girls' College bus was a school route.
Also, he said the bus would not stop on Cambridge Road, near St John's. The boys would have to walk from Sacred Heart Girls' College, 2.5km back to St John's.
Macrides said he was disappointed because even a public bus route would allow passengers off at Cambridge Road, near Hillcrest.
The ministry said the Cambridge to St John's College service stopped because alternative public transport was available for the students to use.
"We have had lengthy discussions about this with St John's College and the Waikato Regional Council," a statement from ministry head of education infrastructure service Kim Shannon said.
Shannon said it was up to Go Bus to set its own fares if the St John's students wanted to use one of its other school bus services.
"This is at the discretion of the bus company, as is the level of fare that they set. We are not party to these arrangements."
Go Bus said it had spoken to St John's College about other transport options.
The Sacred Heart Girls' College bus could take fare-paying students from St John's but it would be a private arrangement between students and Go Bus.
Go Bus said there was a regional council service also operating on the route, so the same fares should apply to both the public and school service.
"The Sacred Heart bus is a contracted service to the Ministry of Education and must stay on its designated route. No detours that would add cost or time can be made," Go Bus said in a statement.
"The regional council bus will, however, take the students closer to the college than the Sacred Heart bus. It will be about a 11-minute walk from the bus stop on Knighton Road to the college gate."