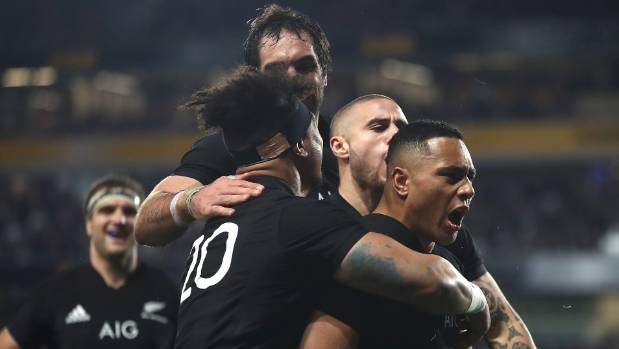 Spark confident they can deliver glitch-free Rugby World Cup to Kiwis
Spark are vowing to get things right for Kiwis during next year's Rugby World Cup broadcast after seeing Optus Sport struggle to deliver the Fifa World Cup to frustrated Australian viewers.
Optus Sport's unreliable Fifa World Cup streaming from Russia has left Australian football fans fuming and the company admitting it underestimated the challenges of playing on the world stage.
Optus insists it didn't skimp on the back end infrastructure required to stream World Cup matches, the Sydney Morning Herald reported.
While Spark could not comment on what Optus had missed, they were monitoring the situation closely and said it was "hard to know" whether the situation was relevant to next year's 2019 broadcast from Japan.
READ MORE: Spark and TVNZ win naming rights to RWC 2019
Spark spokeswoman Lucy Fullarton said the company was aware how important rugby is to New Zealanders and how they would have to get it right first time.
"We are very confident we will deliver the right experience for Kiwis. We are well and truly aware of how important this Rugby World Cup is to them."
Fullarton said the two most important parts of streaming to the nation would be network capacity and the platform they would stream on – which would be "world class". While they could not predict how many Kiwis would tune in, they would be boosting the network capacity to fit the purpose, she said.
TVNZ and Spark have won the rights to broadcast the 2019 Rugby World Cup – and while some games will be broadcast free, Kiwi rugby fans are going to have to dig into their pockets to watch every match.
The tournament will be offered on a pay-to-watch basis, with packages to include a tournament pass and passes for individual matches.
Optus was caught off-guard by the strong demand from Australian football fans watching online during the first few days of the tournament, Optus vice president of regulation and public affairs Andrew Sheridan said.
The outages affected those watching live matches on their smartphone or tablet.
Glitches began on Friday night when Optus failed to allow for the number of Australians wanting to watch the match between Egypt and Uruguay. Optus was the only available provider.
Optus also underestimated the number of customers who would wait until the last minute to sign up for its service. This flood of new sign-ups just before the kick-off caused some viewers to be booted from the live stream – forcing them to log in again, putting even more strain on the system.
Woes continued throughout the weekend as Optus ran into a range of technical troubles, which left some frustrated viewers staring at a frozen picture or error messages in the middle of the night.
Optus Sport's World Cup service is available to Australians who aren't Optus home or mobile broadband customers.
This can create difficulties in serving up live streams across rival telcos' networks, not due to the quality of those networks but rather the need to cross networks and use different content delivery networks partners to reach all viewers.
Spark said they would be working closely with rivals here in New Zealand.
– Stuff and Sydney Morning Herald