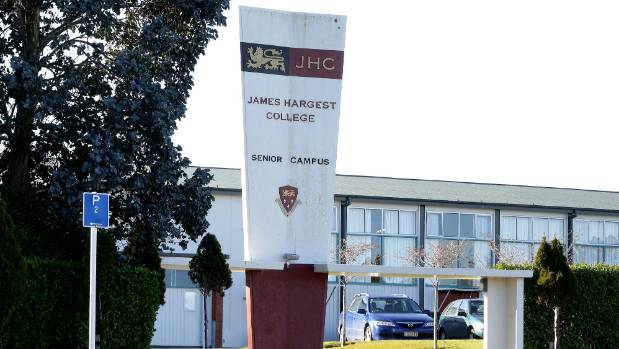 Southland school 'fight club' claims fended off by principal
Parents of two pupils say a "fight club" culture exists at a Southland school and they fear for the safety of their children after they had been physically attacked by other pupils.
However, James Hargest College principal Andy Wood said: "because kids are kids, stuff still happens" and his school was no different to any other.
One father said a "fight club" mentality existed at the school and videos of pupils physically fighting were being uploaded on to social media.
"I know of one kid who has 67 fights on his phone and he's only been there for a year and a half. It's been going on for months.
"One kid got taken to hospital after being knocked out there last week. There's black eyes, all sorts of stuff going on."
Stuff has viewed three videos in which boys and girls are engaging in physical fights while other pupils stand around recording them on their phones. These videos, with the parents' permission, have been passed on to the Ministry of Education.
The father said the videos are being uploaded onto closed, secret pages on Facebook and Instagram, which glorified the fighting.
"We've been to the school about it plenty of times. They don't want to stand kids down for it or anything like that because then that makes the school's statistics look bad."
Another father said his child had been bullied for about 18 months before being physically assaulted at the school.
He said he did not have a satisfactory meeting with the deputy principal.
"There's no rock solid bullying policy in place, just guidelines. It needs to stop. We're just not that confident in the school, they've let us down really."
Both parents are considering removing their children from the school.
James Hargest College principal Andy Wood said most, if not all schools, had incidents of physical assault and bullying to deal with, and the college was no exception.
"When they occur, they are investigated and dealt with fairly and firmly. Whilst these issues are not new, what has changed is the presence of universally-owned mobile phone cameras (students are allowed mobile phones at school) and the provision of social media platforms on which to post both visual material and continuous messages. These can​ have an extremely negative impact but are outside ​the ​ability of schools to manage.
"Our only champion in this space is Netsafe. Hopefully the introduction of the Harmful Digital Communications Act, which came into force in 201​5​ ​will​ help.
"Because kids are kids, stuff still happens. When it does, our response is a balance of educative, restorative and punitive in whatever mix is appropriate to the situation. I am unable to comment on the circumstances of​ any specific ​incident for all the obvious reasons of privacy." ​
"There is ample evidence that JHC is a safe environment,​ as evidenced by our most recent Ero review which investigates a very comprehensive range of data including what we currently term "student voice", stand downs and suspensions, the reasons for them, and many, many other pieces of evidence demonstrating ​a very​ high quality of schooling."
​​
Ministry of Education deputy secretary sector enablement and support Katrina Casey said it had not received complaints about the incidents at the school.
"We have spoken to the principal and are satisfied that they have appropriate systems in place to effectively manage the situation. They are aware we are available to provide further support if needed.
"We expect every school to create a culture that promotes positive behaviour, wellbeing and reduces behaviours that disrupt learning.
Casey said school leaders and trustees were encouraged to use the tools and resources on the Bullying Free NZ website.
A police spokesperson said bullying and assaults at the school had not been reported.
"Anyone in New Zealand who is concerned about their safety, or the safety of another person, should contact their local police."