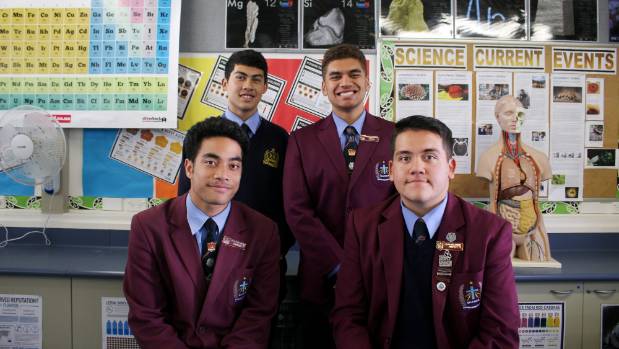 South Auckland school leading way in Pasifika students' science success
There might not be a big representation of Pacific Islanders in medicine and health sciences right, but a South Auckland school is changing that.
De La Salle College's science faculty is among the 15 finalists at the Prime Minister's Education Excellence Awards 2018.
The head of the science faculty, Kane Raukura says back in 1997 he taught six students in his chemistry class. Now, they have two chemistry classes of 30 students, two physics classes of 30 students, and year 13 classes are also bursting at the seams with 30 students in each class for physics, chemistry and biology.
Making science compulsory, introducing the Counties Manukau DHB's Health Science Academy, engaging staff, students and families are some of the ways the high school is making history.
"Becoming a finalist is awesome," Raukura says.
"We are a Pacific Island boys school, you know, a lot of things are stacked against us – decile 1, low socio-economic area, a lot of the boys come with poor literacy ability, but in the science faculty we don't see it as an excuse or a barrier for them not to do well."
He says the staff, that has "almost zero turnovers" work in partnership with the parents to keep the boys focused.
In addition to school, students in the Health Science Academy come in for an extra hour of studying on Wednesdays.
It's a select group of 25 in years 11, 12 and 13 each. Students have to prove their mettle by writing an essay and going through a robust interview process before being included.
Raukura says a few boys who have been through the academy are now studying to be doctors at Middlemore Hospital.
Most of the students don't have family members working in medicine or the sciences.
Year 13 student Ross Raufoli says growing up, he wanted to "change the world".
He says there aren't many Pasifika doctors because maybe they "underestimate" themselves.
"In our culture, it's easy to say try to humble yourself. It's not bad to be humble, but we're greater than that.
"Being a Pacific Islander … we're a really small population, so trying to get our name out there is really important to me."
He sees himself going into the medical field mostly specialising in neuroscience.
On the other hand, David Hansen, also in year 13, didn't consider science "until it became compulsory".
"From there I felt like that's what I wanted to do."
He's looking at a career in either health sciences or mechanical engineering.
Winners of the Prime Minister's Education Excellence Awards will be announced on July 3, 2018 in Wellington.