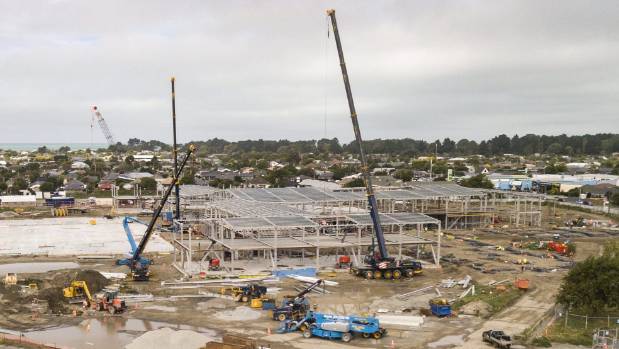 Shirley Boys' and Avonside Girls' school zones to include eastern suburbs, exclude Marshland
Families who campaigned to stay in the catchment zone for Shirley Boys' and Avonside Girls' high schools have been vindicated after the Government relinquished its controversial proposal to exclude them.
The Ministry of Education announced on Friday that the new enrolment area for the Shirley Boys' and Avonside Girls' high schools will retain suburbs in their current zones.
School principals John Laurenson and Sue Hume had mixed feelings about the decision, which will take effect in January before the schools relocate to QEII Park.
While Laurenson said it was "good news" for the communities currently living in the zone, Hume said others would be disappointed the ministry had rejected their request to include Marshland.
READ MORE:
* Hope as Shirley-Avonside zone announcement nears
* Upset over high schools' zoning is just the beginning
* Locals feel abandoned by new schools' zone proposal
* 'It's not Shirley Boys' High School if it's not in Shirley'
* Mayor regrets QEII land sale for schools' rebuild
The principals had asked for Marshland to be included in the zone because so many eastern suburbs residents moved there after the earthquakes.
However, the ministry decided that including the Marshland area and allowing currently-zoned suburbs access would have created a significant risk of overcrowding.
"The good news is that we will review the schools' zones again in May 2019," Hume said.
"At that stage, we will have student data to help address the ministry's concerns around overcrowding if Marshland is included.
"It is also important for families who don't live in the new zone to remember that both schools will be taking a significant number of out of zone students so it is well worth enrolling."
The proposal to cut the Shirley, Avonside, Richmond, Edgeware and Dallington suburbs out of the schools' zone left locals feeling "abandoned".
It sparked a 1900-signature petition and drew support from local officials, including Christchurch Mayor Lianne Dalziel, who said she would not have championed selling part of QEII Park for the schools' rebuild had she known their zone would exclude those suburbs.
Hume said the consultation process resulted in a large volume of feedback. "We were grateful for that."