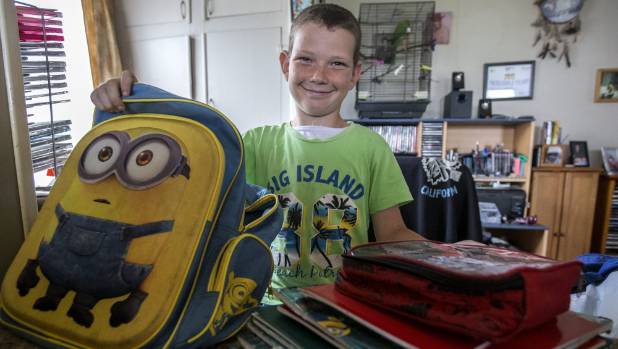 Schoolchildren are being injured by heavy backpacks; here's how to pack one
Andre Stokes claims his grandmother packs his school bag best of all.
The 9-year-old Timaru boy is one of thousands of children throughout the country starting the school year this week.
For Andre, the start of the school day follows a set routine. His Nana will pack his bag for the day, then he will scooter to school. At the end of the day he will throw his homework book, one reading book, a lunch box, drink bottle, a jersey and a jacket, back into his Minions backpack and scooter home.
"My bag is usually not as comfortable on the way home," Andre said.
READ MORE:
* Back-to-school costs put pressure on NZ families
* Parents face growing, more expensive stationery lists
"Nana packs it much better for me than I can."
As children prepare to head back for 2018, the Ministry of Education has handed out guidelines to packing a bag properly.
The back to school tips recommend things such as backpacks being no wider than the child's chest and packing the heaviest items at the base of the bag, closest to the child's back.
Physiotherapist Rachael Boyce has treated secondary school-aged children with neck and shoulder pain who have been carrying school bags up to 15kg.
"Most people will just put up with discomfort rather than seek treatment, so there is likely a lot of sore people out there who just don't come for physio," Boyce, the director at Active Health physio in Timaru said.
"However, pain is always a sign that something is not quite right. When people do present with this as a cause, education of how to reduce this strain is our first line of treatment so the ministry mass educating to prevent this problem is a good strategy."
Boyce suggested getting a good fitting back-pack that allowed the weight to be carried low and close to the body, reducing the muscle strength needed to support weight.
She advised putting the heaviest items at the bottom of the school bag "lowered the centre of gravity of the weight being carried", so it was easier on the body.
"Bags should be worn over both shoulders, also evenly spread the weight across the body. And keep [the bag] close [against the body] which reduces the force needing to carry it.
BACKPACK PACKING TIPS
* Backpacks should be no wider than your child's chest
* The straps should be shortened until the bottom of the bag is just above the child's waist, and not sitting on their buttocks
* Wide, padded shoulder straps will help distribute the weight evenly
* A hip or chest belt will take some of the strain off your child's neck and shoulders
* Only carry what they need for school each day
* Pack the heaviest items at the base of the bag, closest to your child's back
Source: Ministry of Education