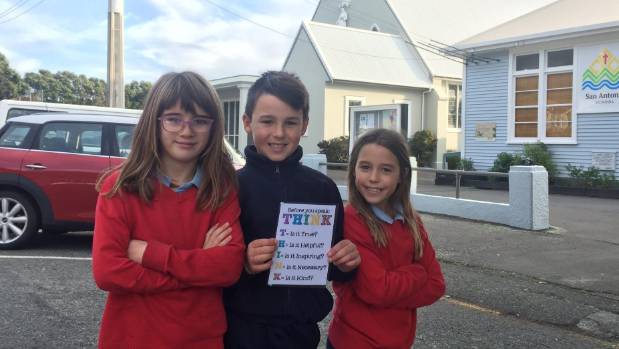 School pupils' letter outlines dissatisfaction with new bus contractor
Three school pupils have penned a letter to Metlink complaining of feeling "scared and unsafe" after a new company took over their school bus route.
Ariana Gentry, 8, Tom Cleland, 9, and Catie Cleland, 7, from San Antonio School in Lower Hutt, outlined in the letter how they and their classmates had allegedly been treated by drivers from new operator NZ Bus.
They said in the space of a few weeks drivers had refused to pick students up, forced one pupil off the bus, refused to honour term passes, and shouted at students and parents.
"We just wanted to write this to let you know we have been feeling scared and unsafe," the letter said.
READ MORE:
* Wellington students say they're treated like 'second-class citizens' on city buses
* Hutt Valley bus driver allegedly gave student $5 to show him the way to school
* Bus woes in Wainuiomata following change of contract
Principal Therese Young said problems began in mid-June when ​NZ Bus took over from Classic Coaches which had been providing the Muritai-San Antonio school bus service in Eastbourne.
They had been in contact with Metlink "two or three times a week" about frequent incidents like those outlined in the letter.
Young said she could understand the new bus company having teething issues but expected any problems or misunderstandings to have been sorted by now.
"Parents are entrusting their children's care to whoever is running the buses. We just want their safety and security maintained until they get home."
Tom and Catie's mother, Trish Cleland, said the ongoing situation around the term passes was frustrating and she could not understand why drivers were showing such hostility to school children.
Children had been told they had to pay with cash or with a Snapper card despite Metlink assuring the school they would honour the old passes.
"I guess it's a lack of appreciation that these are just kids. It's as if the drivers think the kids are trying to take advantage of the company."
With the letter, the the students had included a copy of a poster which hangs in their classroom.
"We have a poster at school that our teachers have to help us be kind," the letter said. "We are sending you a copy for your drivers."
A spokesperson for Metlink said children shouldn't be scared or treated rudely on a Metlink bus.
"We want to improve public transport and the experience customers have, no matter what their age, because we want more people to use public transport.
"The operator is addressing the issues raised. They have reminded all the drivers to acknowledge the term passes, and will follow up to address any unacceptable behaviours. They believe safety is paramount and apologise to the students and the school for any concerns, and look forward to providing improved services in the new term."
NZ Bus chief executive Zane Fulljames said under the new bus contracts, the company was unable to talk to media without Metlink approval.