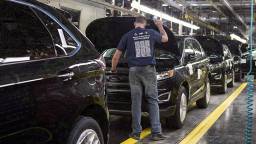 Responding to Trump auto tariffs in kind would have 'catastrophic' consequences: report
READ MORE: Auto tariffs could cut Canadian production by almost 1 million cars: CIBC
Change Location
Newscasts & Videos
Ford Edges sit on a production line as in this February 26, 2015 file photo.
A group representing Canadian car dealerships released a new report on Friday warning of "catastrophic" consequences if the federal government imposes retaliatory auto tariffs in response to the looming threat of such levies by the Trump administration.
U.S. President Donald Trump has threatened to slap tariffs of 25 per cent on auto imports, which would come after he imposed tariffs of 25 per cent and 10 per cent on foreign steel and aluminum in May.
READ MORE: Auto tariffs could cut Canadian production by almost 1 million cars: CIBC
In response to the steel and aluminum tariffs, Canada imposed a targeted list of its own levies and Foreign Affairs Minister Chrystia Freeland warned an equally robust response was being planned in the event Trump goes ahead with auto tariffs.
But while auto sector representatives have said they support the retaliatory tariffs in place now, they fear doing the same in response to auto tariffs could cost as many as 100,000 jobs in a worst-case scenario.
WATCH BELOW: A look at the impact of the Canada-U.S. trade war
"What we are facing is nothing less than existential for our industry," said Michael Hatch, chief economist for the Canadian Automobile Dealers Association, which represents 3,200 Canadian car dealerships.
"The type of tariff under contemplation in the U.S. and any possible retaliation by Canada would be catastrophic for the industry, our economy, and the Canadian consumer."
Hatch said the imposition of auto tariffs by the Americans would primarily hurt American consumers more than Canadians.
Though if the Canadian government slaps tit-for-tat tariffs on auto imports from the United States, that could quickly spark sharp financial pain.
READ MORE: Here's how Canada's new tariffs on U.S. imports could impact your weekly shopping bill
In that case, consumers could expect to pay an extra $5,000 to $9,000 for new car purchases in Canada, Hatch said, and the resulting impact of the tariffs on manufacturers and car dealerships could lead to greater turmoil than during the Great Recession.
"It is our view that the current escalation of trade threats between Canada and the U.S. in the automotive sector represents the biggest threat since the 2008-2009 recession, and likely with a much bigger downside," he said.
Hatch said the association wants to see a sales tax exemption for car dealerships for the duration of any retaliatory Canadian auto tariffs.
READ MORE: These animated maps show Canada has so much more to lose in a trade war than the U.S.
As well, he wants the government to provide an incentive to get old cars off the roads so people will buy new ones.
Huw Williams, director of public affairs for the association, said while a direct retaliation made sense for the first round response, it is not sustainable.
"Any tit-for-tat can't go on for too long because we'll lose our ability to function as an economy if we respond too sharply," Williams warned.
"Ultimately our message on both sides of the border is get back to the table. NAFTA's been good for everybody."
Trump has repeatedly suggested he views the imposition of tariffs as a bargaining tool to get Canada and Mexico to cave to his demands on NAFTA.
There is no date for when those negotiations are set to resume but Freeland has said the summer will be a period of "intense" efforts to reach a deal.
© 2018 Global News, a division of Corus Entertainment Inc.
Want to discuss? Please read our Commenting Policy first.