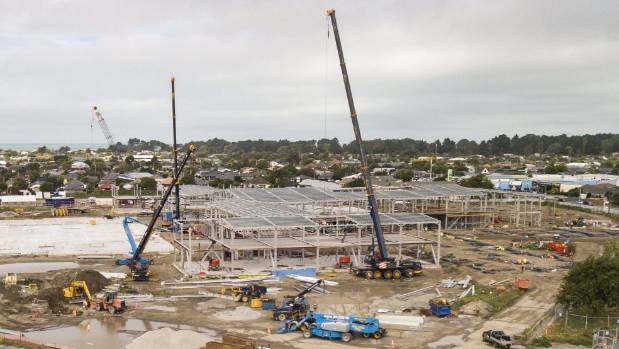 Residents hope ministry has listened as Shirley Boys' and Avonside Girls' high schools zone announcement nears
East Christchurch residents hope their pleas to remain in zone for two local high schools have been heard as they await an official decision.
The Ministry of Education will announce the new enrolment area for Shirley Boys' and Avonside Girls' high schools at midday on Friday, ending months of uncertainty for families who have campaigned against the change.
The ministry says it is "necessary" the schools' enrolment zone be changed to reflect their relocation to QEII Park next year, about 5 kilometres north of their current sites.
However, the proposal to cut the Shirley, Avonside, Richmond, Edgeware and Dallington suburbs out of their zone left locals feeling "abandoned", sparking a 1900-signature petition and drawing support from local body officials.
READ MORE:
* Upset over high schools' zoning is just the beginning
* Locals feel abandoned by new schools' zone proposal
* 'It's not Shirley Boys' High School if it's not in Shirley'
* Mayor regrets QEII land sale for schools' rebuild
Christchurch Mayor Lianne Dalziel waded into the debate, saying she would not have championed selling part of QEII Park to the ministry for the schools' rebuild had she known their zone would exclude those eastern suburbs.
She said the process followed on from the "utterly appalling" school closures and mergers in east Christchurch.
Burwood Ward councillor Glenn Livingstone has been a vocal advocate for the suburbs to stay in zone.
"The way I see it, tomorrow is an opportunity for the ministry to redeem themselves and I really hope that they take that opportunity," he said on Thursday.
"The community has spoken with one voice; let's hope the Ministry of Education has listened."
Although they have been unable to comment on the zone since the proposal was returned to the ministry for confirmation last month, school principals Sue Hume and John Laurenson have previously expressed frustration about the change.
In April, Laurenson, the principal of Shirley Boys', told prospective parents the schools were "being driven to this by the ministry", while Hume said they hoped to strike a "50-50 balance" between in-zone and out-of-zone students to ensure fair access.
The principals said they asked for Marshlands to be included in the zone because so many eastern suburbs residents had moved there after the earthquakes.
The schools are expected to relocate to QEII Park in April 2019.