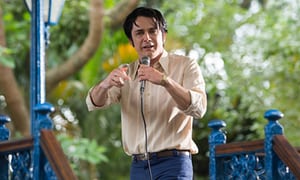 Questions raised after 'sold out' church biopic plays to empty cinemas in Brazil
Critics call film a 'programmed success' as viewers in half-empty shows report being given tickets by the controversial church
Brazil's biggest cinema hit in more than a decade is a biopic of a powerful Evangelical bishop that has broken box office records.
There's just one problem: the sold-out film fails to fill cinemas.
Nothing to Lose (Nada a Perder) tells the story of Edir Macedo, the founder of the Universal Church of the Kingdom of God – a controversial and influential evangelical church that has extended its operations to 110 countries and claims nearly 10 million followers worldwide.
Part-funded and promoted by Record, the television channel that Macedo owns, the film has sold nearly 9m tickets, according to the monitoring firm comScore, making it the biggest-selling Brazilian film since comScore started measuring box-office returns in 2002.
But it plays to rows of empty seats.
When the movie opened on the last weekend of March, the Folha de S Paulo newspaper went to nine cinemas in São Paulo but found the screenings were half-empty. Customers said they had been given tickets by their local Universal church.
The film tells the story of Macedo as he built his evangelical empire, and faced off with the establishment.
Macedo was briefly jailed in 1992 and was charged along with three other church leaders in 2011 with money laundering, illegally sending money abroad, racketeering, embezzlement and misrepresentation. Macedo has yet to be tried on the money laundering charge, the other charges have since expired or rejected in court, a spokesman for prosecutors said.
Critics have slammed Nothing to Lose.
"It leaves the impression that art was less important and the film was made to glorify the protagonist and his religion," Rio's O Globo newspaper said.
Yet the film is still the sixth best-selling in Brazil, according to Filme B, an independent cinema monitoring company.
"It is a programmed success," said Paulo Almeida, director of Filme B. "The public did not turn up."
Macedo's 2012 autobiography (on which the film was based), became a bestseller as far afield as the US and the UK amid similar reports that churches were buying copies in bulk.
According to Folha, cinemas had also failed to fill up when Record released a feature-length version of its soap opera The Ten Commandments two years ago, yet the film is comScore's second-biggest selling Brazilian film.
In an email, a spokesman for the Universal Church described reports that the film was showing to empty cinemas as "a lie" and "fake news" propagated by media with "a long history of attacks against Universal and the Christian faith".
The Church had "never" bought tickets for the film, he said, but there had been "an initiative so that the biggest number of people possible could see the film – taking needy populations and residents of poor neighbourhoods, the excluded and those who never had access to a cinema where they live."
On a Monday night, two early evening screenings at a cinema in downtown Rio de Janeiro were sold out online and at the box office. But one played to a completely empty cinema and the other was being watched by just one woman and her two children.
The duty manager, who asked not to be named, said this situation repeated night after night. "I also think it is strange," the manager said.
Tatiana Fernandes, 30, who lives in the Rocinha favela and works in a restaurant, had come to see the film with her daughters Manueli 7, and Victoria, three months, after being given tickets by her local Universal Church.
"Cinema is expensive and many people can't afford it," she said. "I'm evangelical and when the film came out I was crazy to see it."
But she added: "I hoped there'd be more people."