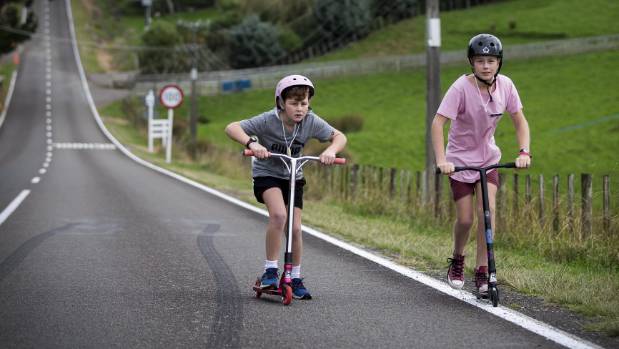 Pupils' plea prompts officials to fix dangerous roads outside Manawatū school
Help is on the way for pupils who fear walking to school in their rural Manawatū village because of dangerous roads.
For years pupils at Hiwinui School have evaded oncoming traffic by jumping into roadside ditches as the volume of vehicles speeding through the narrow and undulating main road through town increases.
Now, it's at the top of the Manawatū District Council's to-do list, with $250,000 going toward safety measures.
The settlement, 11 kilometres from Palmerston North, is surrounded by unfavourable terrain, with restricted roadside space for footpaths, council infrastructure general manager Hamish Waugh said.
READ MORE: Dangerous roads outside Manawatū school prompt plea for action from scared pupils
The issue is compounded by urban development in the area and increased traffic from the Saddle Rd, following the closure of the Manawatū Gorge road.
Pupil Curtis McKenzie, 12, told officials during the Long-Term Plan process the wavy contours of the road made it difficult to see children walking.
Although some drivers were kind enough to slow down, others ploughed straight ahead, forcing walkers to jump off the road and into the drain.
His concerns were supported by Hiwinui Community Committee chairman Arthur Wood, who said discussions between residents and the council had been ongoing for years.
School principal Brenda Leigh was thrilled the council had listened to the community.
She said there were several close calls in her 17 years at the school, prompting her to install a flashing light and barrier near the school's entrance, to warn motorists of impending pedestrians.
"Health and safety is huge here and it's something that's needed fixing."
The school had incorporated road safety into its curriculum so its pupils knew what to do. The school court has a road painted on it, with various situations simulated, where pupils are taught basic pedestrian etiquette.
The pressures Hiwinui faced were not uncommon, Waugh said, given the town's speedy growth.
"It's not an area council is investing money towards growth. A lot of private developers are and there's some really nice houses out there, but with that comes growth pressures.
"When the school was first put there it was fit for purpose… We're now well aware of the issues out there."
Mayor Helen Worboys said the next step was to talk with other schools in the district.
The New Zealand Transport Agency's safer journeys for schools programme allowed the council to apply for a subsidy, so ratepayers didn't wear the full burden.
All schools in the district were assessed on the risk of traffic, Woboys said, with growing populations in several Manawatū towns posing challenges.
"Rural communities and schools are growing fast and our rural roads were not built to uphold all the traffic movement schools generate, so it's figuring out how to get around that.
"We have budgeted money towards pathways being built, in order to give the community the confidence it will go ahead."