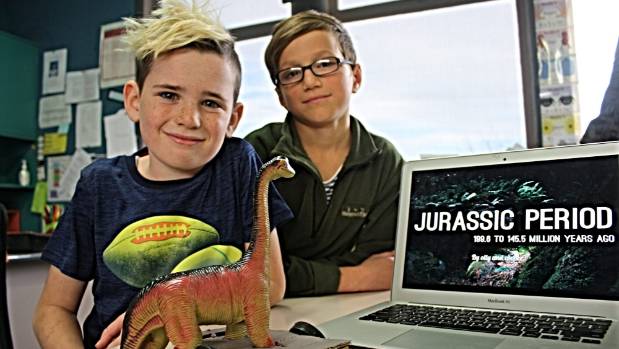 Pupils peek back in time at education expo
Sir Edmund Hillary, dinosaurs, the Titanic and tank commanders were on show as tech-savvy pupils used modern means to showcase the past.
Year 3 and 4 pupils from Renwick School showed-off their efforts at a special education expo.
Family and friends flocked to the school to take a first hand look at the diverse range of projects which had captured the children's imagination.
After five weeks of hard work, the displays were brought to life and put on show.
READ MORE:
* Twilight carnival a first for Marlborough school
* Renwick School in Marlborough presented Enviroschool award for being eco-friendly
* Marlborough school changes bring your own device policy
Five classes had been tasked with picking a subject which interested them from the past. They then turned to technology to help them delve into the annals of history.
Friends Elle Gray, 8, Amelia Campbell, 9, and Reanna Bone, 8, chose to find out more about Sir Edmund Hillary and built their own version of Mount Everest.
They each took turns to add a voice-over to their computer animated presentations.
"It was a lot of work but we found out what a lot, like what he would have ate," said Amelia.
The Jurassic period was highlighted by friends Olly Glackin, 7, and Cooper Stockwell, 7 while Kēpa Smith, 8, and Tylen Bassett,9, concentrated their efforts on World War II tanks and commanders.
Kēpa said sourcing the information they needed "wasn't easy."
"Putting things in our own words was hard but we found a lot out," he said.
Room 13 teacher Amanda Greatrix said it was important pupils were taught the tools they would need to discover information for themselves.
"We should not be teaching them knowledge, we should be teaching how to find the knowledge. There are more books and internet sites that I could ever teach them and when they find their passions like this it's really cool.
"It's the first time they've done any sort of research on computers and they've been really into project-based learning," she said.
Principal Simon Heath said "it was really amazing" what the children had achieved.
"They were nervously excited to show off their work. What they learned and how they applied it was just fantastic" he said.