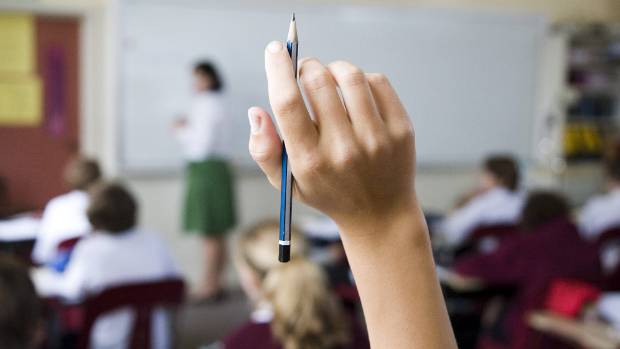 Principals incensed over NCEA review process
Principals have given a fail mark to a NCEA review designed to overhaul the high school qualification.
A group of almost 40 Auckland principals branded the review "flawed" in a school report-style Sunday Star Times advertisement.
They're at the coalface, but say they've been shut out of a review process which Education Minister Chris Hipkins started to strengthen the qualification.
In May, a seven-person ministerial advisory group suggested a shake-up of NCEA, which would include halving the number of credits at level 1 and more project-based learning.
READ MORE:
* A complete overhaul of NCEA level one has been recommended to Government
* Government announces complete shake-up of NCEA for 2018
* Concerns raised about NCEA level 1 as review takes place
* Auckland school goes its own way following proposal to overhaul NCEA
The proposal would get rid of the need for external exams, remove fees for NCEA and Scholarship entry, and could bring in digital, financial, and civic literacy.
But the review is a flawed process, the incensed principals say, and they won't "stand idle on the sidelines watching".
"There's no doubt that they want to reduce the academic rigour around level one and level two," Hamilton's St Peter's College headmaster James Bentley said.
There has been talk of projects in place of exams or assessment, and that can't be as fair as students around the country sitting the same exam, he said.
Principals felt like they had been put to one side of the review, Bentley said – one of seven ministerial advisory group members is a principal.
"We seem to have a whole group of other people who seem to be having a greater voice or certainly influence on what's going to be a national qualification that we have to implement."
Their ideas, such as compulsory work experience, would create a logistical nightmare, he said.
Education Minister Chris Hipkins previously cited NCEA problems including arming students with the skills employers want, and stopping assessment getting in the way of learning.
"I want every young person to have access to a pathway through NCEA that reflects their strengths," he said in a May statement.
The review has huge implications and the consultation period isn't long enough, Auckland's James Cook High School's Grant McMillan said.
Ideas such as whether to teach civics are being "jammed in" to a qualification review, he said, and the government department which oversees the qualification, NZQA, isn't the lead.
The principals aren't convinced about the ministerial advisory group, and McMillan said there were some "lovely fluffy ideas" but not much on how to make them happen.
A focus on learning through projects, for example, would mean finding something credible enough for formal assessment for about 600 James Cook students.
The principals' group wants two things to happen before the NCEA system was reviewed: a fix for teacher supply, and a national curriculum discussion about what is vital for Year 11, 12 and 13 students to learn.
Anyone interested in the NCEA review can have their say here until September 16, and there will be hui on the topic held around the country.