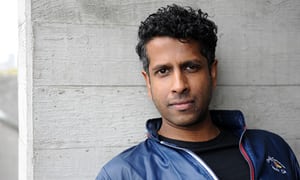 Prasanna Puwanarajah: 'I thought Planet Acting didn't need someone like me'
He used to get cast as either a doctor or a terrorist. Now Prasanna Puwanarajah is on stage at the National, starring opposite Benedict Cumberbatch in Patrick Melrose – and even writing his own sci-fi show
It was nine years ago that Prasanna Puwanarajah last worked on a hospital ward – he went from there to rehearsals for Twelfth Night at the Royal Shakespeare Company. In the previous two years, he had been working as a jobbing actor, writer and director, and as a doctor – going wherever he was needed in the NHS, and fitting in auditions, making a couple of short films, directing some plays, in between. He had been deferring a training post in reconstructive surgery, and at some point, though he never really made a definitive decision, he just never went back to medicine.
We meet at the National Theatre, where Puwanarajah is appearing in Absolute Hell. There is still something doctorly about his manner – the steady voice; the careful, analytical responses. The National is a place that proved instrumental in his career change. "I'd done a show at the Arcola," he says, "and I was heading back to the NHS. I got auditions at the RSC and then at the National. I came here and did four shows and wrote a play, over the course of a year and a half. It felt vibrant and exciting and possible."
Puwanarajah's career has been steady, but at the age of 36, he is powering forward with an impressively broad slate of projects. His most high-profile TV role to date was as Suranne Jones's bewildered boyfriend in the last series of Doctor Foster. Now he is playing opposite Benedict Cumberbatch in Patrick Melrose, Sky Atlantic's adaptation of the Edward St Aubyn novels. He's about to appear in the forthcoming BBC comedy legal series Defending the Guilty, will direct two plays – one at Rada, another in Edinburgh – and (hopefully) a feature film, set in Northern Ireland. Then, he's co-creating and writing a sci-fi series for a US network with Line of Duty writer Jed Mercurio. Nearly a decade after abandoning a stable career, he must feel vindicated.
Both his parents, who moved to the UK from Sri Lanka, worked in the health service – his mother a drug and alcohol dependency psychiatrist, his father a dentist. Theatre wasn't a big part of Puwanarajah's childhood – he remembers going to the pantomime once as a child. Then he appeared in a couple of school plays. "I didn't want to, but I remember vividly the surprise of enjoying the experience and enjoying the collective activity," he says. As a teenager, he tried out for a place at the National Youth Theatre and the man auditioning him asked him why he wanted to be an actor. "I said 'I don't, I'm going to be a doctor'."
He got in, probably, he says with a laugh, on the basis that his answer intrigued them. The following year, during the summer break from medical school, he was back to do one of their shows. "I think out of 14 people in the show I was the only one who didn't get any phone calls from agents and I was like, again, not fussed: 'That makes perfect sense.' I was pretty sure that Planet Acting doesn't need someone like me." He smiles. "I mean a brown person."
He had rarely seen south Asian actors on television or in plays. If he had, would he have thought differently? "I think I would have been curious about that person's journey. If you're a person who doesn't see a route forward, [when] you don't feel that opportunity is forthcoming, you're at the mercy of whatever else there is. If you do see those things, then you are forced to ask the question: what is that other journey?" The absence of high-profile actors who looked like him, he says, "wasn't necessarily driving a decision I was making to not do it, but it was a coefficient in there. It just felt so distant from anything that might be something I'd do."
Early in his TV career, Puwanarajah was seemingly only cast as a terrorist or a doctor. He grimaces. "Yeah, it's good isn't it? The stories have to be there that are about minority experience as distinct from stories about people that contain edge-of-frame stereotypes of minorities. I'm a bit bored of people going, 'How do we do this?' We just do it. [Writers] need to be commissioned, have their plays on and they need to be allowed to write plays that don't work and be allowed to fail on the same terms as anyone else."
He is wary of the idea of "colourblind" casting. "I just don't think we're colourblind people," he says. "My experience has not been of people being blind to it." To skip through a few of Puwanarajah's experiences may feel a bit superficial, but it makes his point: as a child, he was threatened for wearing an England football shirt; in an operating theatre once, a colleague told him his English was surprisingly good; a few weeks after the Brexit vote, he was told by two men, on the street in the middle of the day, to "fucking go home".
What he prefers, he says, is a role that is more truthful and meaningful, offering genuine representation. "I'm drawn to the parts where [a character's race] maybe does matter because it's about raising a possibility of…" He thinks for a moment. "… of trying to find the truth about brownness in our national heritage." Absolute Hell, set in a Soho members' club just after the second world war, is an example, he says. "It's a period show, but what my presence does is open us up to the truth that people like me resided in worlds like that at that time." In Patrick Melrose, "I'm playing a guy who is probably 20 or 21 at the end of the 70s and he's fallen in with some pretty aristocratic people, but he's clearly an Asian man. Did that person ever exist? Yes, probably. Have we seen him [on TV] yet? I haven't. It's a little tiny piece of representation of a truth that exists everywhere except in our dramatic canon."