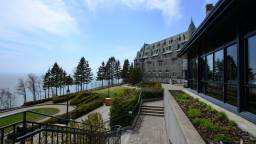 Police in Quebec prepared for G7 protests
READ MORE: Charlevoix prepares to host world leaders ahead of G7 summit
Change Location
Newscasts & Videos
Le Manoir Richelieu in La Malbaie, Quebec is the place of the 2018 G7 Summit. Shown here on Wednesday, May 2, 2018.
Police say they expect large numbers of protesters to flood Quebec City — the site of the G7 media centre during the summit which will take place on June 8 and 9.
READ MORE: Charlevoix prepares to host world leaders ahead of G7 summit
Three police forces in charge of security at the G7 summit in La Malbaie held a joint press conference late Wednesday afternoon. The summit, being a national event, will have a large RCMP presence, but the RCMP say they will be concentrating on the security of the over 3,000 international delegations that will be visiting the area.
Meanwhile, Quebec City police will monitor protests. Chief of police, Robert Pigeon, said there are major differences between this year's G7 and the 2001 Summit of the Americas, which saw riots break out, a lot of vandalism of property and police use of tear gas on the rioters.
READ MORE: Human rights groups concerned police will abuse power at G7
Pigeon said unlike the Summit of the Americas that was held in Quebec City, the G7 has a free-expression zone in La Malbaie, which could attract protesters away from Capitale-nationale. Also, there will be no fence or cordoned off area that the police chief said incited protesters at the Summit of the Americas to tear down.
Pigeon said Quebec City police will tolerate all manner of peaceful protest and will not block off roads or try to contain people if the crowds begin to march. However, they could decide to put up barricades if those crowds get out of hand.
READ MORE: Security top of mind as Charlevoix's Manoir Richelieu prepares for G7 summit
The protection of the National Assembly falls under the jurisdiction of the Sûreté du Québec — and their strategy is different from the municipal police force.
"During the summit — and before, there will be a fence that will be put around the Parlement, the same fence that is used during St. Jean Baptiste holidays. It's not a different fence, it's just that there is a perimeter that will exist," said Lt. Jason Allard, SQ spokesperson for the G7.
READ MORE: Trudeau to spotlight gender, feminism at G7 Summit, Bono not convinced
There will be a visible police presence the week of the G7 along the three main arteries in the centre of Quebec City: René Lévesque Boulevard, Saint-Jean Street and Grande Allée.
Those are the roads around the National Assembly and the Centre des congrès across the street — protestors are likely to congregate there because this is where the media centre will be set up — 2,000 journalists are expected to cover the G7.
© 2018 Global News, a division of Corus Entertainment Inc.
Want to discuss? Please read our Commenting Policy first.