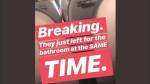 #PlaneBae proves the internet is rarely kind to women
WATCH BELOW: Cybersecurity experts warn about 'cryptojacking'
Change Location
Newscasts & Videos
A Twitter thread following two strangers on an airplane turned into a case of online abuse for the woman involved.
Over the last week, social media users have been charmed by the story of a quasi-anonymous couple who may have found love on a flight from New York to Dallas.
As narrated and posted to Twitter and Instagram by Rosey Blair, a Texas-based actress and blogger, the couple were serendipitously seated together when Blair asked the woman to switch places with her so she could sit with her boyfriend.
WATCH BELOW: Cybersecurity experts warn about 'cryptojacking'
Jokingly, Blair suggested it would make for a delightful meet-cute if the woman ended up seated to a man and they fell in love. As luck would have it, a handsome, single man did sit next to her.
"We made a joke that maybe her new seat partner would be the love of her life and well, now I present you with this thread," Blair wrote in a now-deleted tweet, which sparked the hashtag #PlaneBae.
But for the woman, who has been identified as Helen, that luck would spell misfortune. Blair's Twitter thread quickly went viral, amassing more than 900,000 likes, and while people were initially happy for the two and seemingly enthralled by the story of their potential match, soon it devolved to Helen being trolled and doxxed. She was compelled to delete all her social media accounts.
Interestingly, Helen's seatmate, former soccer player Euan Holden, who was happy to be identified and even appeared on the Today Show to talk about taking part in the viral sensation, did not suffer any consequences. In fact, he attracted a considerable amount of new Instagram followers and revelled in his new-found fame.
READ MORE: Online harassment takes 'heavy toll' on female politicians: report
Meanwhile, Helen, who asked to remain anonymous, was hunted down on social media and pelted with accusations of being a "slut." (That accusation, in particular, stems from one of Blair's tweets that exclaimed the two got up to use the restroom at the same time.)
So. That plane bae thread that went viral a few days ago?
The guy was lauded and asked to go on interviews.
The girl was harassed and had to leave social media. She was attacked for doing the same things the guy is praised for.
Still think people treat men and women equally?
— Rin Chupeco (@RinChupeco) July 7, 2018
hey @roseybeeme the plane girl deleted her social after being harassed as a result of your lack of boundaries. winking at your audience a& calling them "sneaky" enough to find her? sis. this isn't cute it's invasive & irresponsible. she doesn't want to be famous. seriously. stop. https://t.co/5WUAIAsRNd
— Franchesca Ramsey (@chescaleigh) July 7, 2018
It raises questions about online safety as well as consent. And it's an issue particularly relevant to women.
"[Blair] didn't know if this woman was in a current or previous relationship with an abusive spouse, or if she was already being cyberstalked and wanted to remain private as a result," says Kathy Macdonald, a Calgary-based cyber security and safety specialist.
She also pointed out that she could have financial, political or psychological issues that would push her to remain anonymous.
In an essay for Vox, Ella Dawson detailed how damaging the effects of unwanted internet fame (or notoriety) could have on a woman.
READ MORE: Two in ten Canadians have been sexually harassed in the workplace, Ipsos poll says
"I know how it feels to see strangers scrawling obscenities on social media accounts and email inboxes you once considered safe, commenting alongside your friends and family members. I know the sour humiliation of knowing everyone in your life can see that strangers have written about you — your parents, your co-workers, your exes."
"Even when the attention is positive, it is overwhelming and frightening."
A 2017 global survey on the psychological impact of women experiencing online abuse found that 66 per cent felt they were powerless to stop the harassment, and 61 per cent said they felt lower self-esteem and a loss of self confidence.
In the days following the tweet's fame, some pointed out that what Blair did was a gross violation of the couple's privacy — even if she did blur their faces. But was it illegal?
"There are no rules against filming on a plane," Macdonald says. "There are existing protections around defamation and anything that harms a person's reputation. In this case, there could be some civil repercussions."
It's unlikely, however, that there are any criminal implications.
Macdonald says it's in the woman's best interest to seek to have any pictures from this event taken down as soon as possible — whether it's through Instagram or Twitter. But the problem is that, essentially, the internet never forgets.
READ MORE: How to raise a boy in the era of #MeToo
"Both men and women can get harassed online, but it's more often that it happens to women where their pictures are posted and it results in them and their families being doxxed," she says. "Oftentimes, if it goes to court, the perpetrator will be charged and get community service, a fine or even some jail time. But the victim's pictures are out there in perpetuity."
She says that can result in depression and anxiety, and they also run the risk of facing ongoing harassment from other strangers who come across those pictures.
"Even if a woman goes to court, she often has to deal with long-term abuse."
© 2018 Global News, a division of Corus Entertainment Inc.
Want to discuss? Please read our Commenting Policy first.