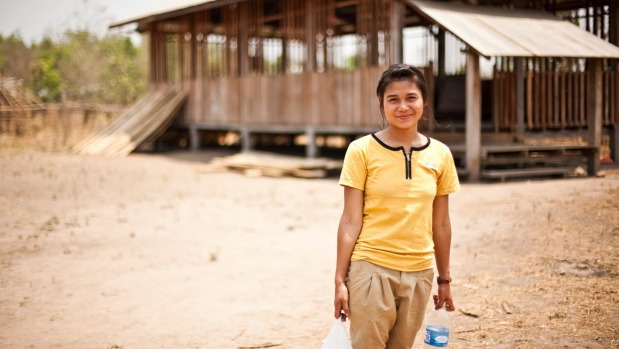 Pizza and comedy means life changing education for Burmese children
Thanks to The Good Guys fundraiser, laughter and pizza can build refugee schools in Myanmar.
Each year an all-star line-up of comedians donates a set for the SpinningTop charity event, and this year is its 10th anniversary.
The fundraiser next week will feature comedians Ben Hurley, Cori Gonzalez-Macuer, Sera Devcich​, James Nokise​, Wilson Dixon and more.
Manager Annie Fischer says SpinningTop has built schools on the Burma-Thai border with as little as $6000.
READ MORE:
*Helping displaced kids is a laughing matter
*Good guys telling jokes for charity
*Charity founder Pat Shepherd is 100 per cent passionate about giving
"We've literally built schools with the money from the comedy shows," she says. "The New Zealand dollar goes a long way."
SpinningTop has sponsor Hell Pizza to provide food for the May 7 event at The Boatshed, on Wellington's waterfront, as part of the NZ International Comedy Festival.
Fischer says overheads are met by sponsorship, so all proceeds go directly to projects on the Burma-Thai border.
SpinningTop is The Body Shop's charity of choice, covering its office and salaries.
Several hundred thousand refugees live on the border, and their quality of life depends on aid for basics like housing and education.
For Fischer, the goal is sustainability through training and education.
"We focus on things like agriculture projects, and giving people the tools to make themselves self-sufficient to grow their own food, and make money."
Volunteer Gabby Bush spent three months teaching in the Burmese border town of Myawaddy, with a project called Stay in School, in an education centre for children who cannot afford regular schooling.
"Teachers get paid nothing," she says. "What they do is not teach anything during the school day and only teach in paid tuition. If you actually want to learn anything you have to go to the teacher's classes after school and pay for it.
"The teachers do it to make a living. It's a really sad, institutionalised problem," she says.
Fischer says education in Myanmar is a national issue, barely recovering since the military junta closed down the universities in 1962.
"The number of people who have had access to education or information has been tiny," she says.
The border region has been struggling since Myanmar opened up to foreign investments, and charities moved to help communities further inland.
Myanmar, formerly known as Burma, has been under limited democratic rule since 2011.
SpinningTop was established in 2005 to support vulnerable children displaced by war and conflict on the border.
It supports projects such as a Thai project called Social Action for Women (SAW), in a border town Mae Sot.
With SAW, SpinningTop helped establish a school which educates more than 300 children whose schools had to close because of a lack of funding.
"There used to be 72 schools. There will probably be 35 by this time next year," says Fischer.
School closures on the border leave up to 2250 children out of school, putting them at risk of human trafficking and exploitation.
* The Good Guys' 10th anniversary comedy show is on Sunday, May 7 at The Boatshed, Taranaki St Wharf, Wellington; 7pm. Tickets are $55, available at the Wellington and Hutt City iSites, Rough Peel Music or iTicket.co.nz.