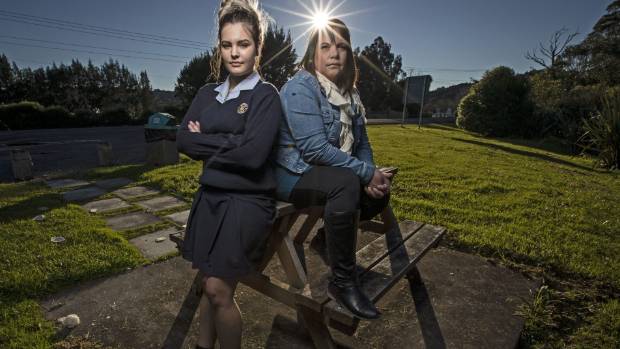 Petition calls on Auckland school to allow students to wear warmer clothing
Students are freezing at a rural Auckland school because the winter uniform isn't warm enough, a parent says.
Nikki Robinson said Kaipara College, in north-west Auckland, was even confiscating non-regulated jerseys, jackets and thermals from students trying to stay warm.
However, the Kaipara College principal said the school had several winter uniform options for students, including a woollen ribbed jersey and lined jacket.
But former students described the jersey as too thin, it smelt like wet dog when damp, and the jumper took forever to dry.
READ MORE:
* Schools drop trousers from winter uniform, provoking ire from parents
* School left in the cold over puffer jacket ban
* Southland school bans beanies – even on frosty mornings
* School defends trouser ban after mother withdraws her sons in protest
The jacket was too bulky, made lots of noise and didn't keep students dry when it rained, Robinson said.
It was ridiculous that students weren't provided with an appropriate winter uniform or allowed to wear their own jackets and jerseys, she said.
Students were allowed in the past to add extra layers, but Robinson said the school had recently become stricter.
"It's a bit dumb really. I don't think any of the teachers are wearing short sleeve shirts and mini skirts in the winter," Robinson said.
"It doesn't take much to dress appropriately, I think it's ridiculous."
Robinson started on online petition to get the school to introduce a warmer uniform or bend the rules to allow students to wear what they wanted.
The petition received almost 200 signatures since it was set up on June 27.
It came as Auckland residents experienced the city's coldest start in three years this week, with temperatures dipping to 0.2 degrees Celsius in parts of the city.
Robinson said she first became concerned about the school's winter uniform policy when her daughter's jumper was confiscated by a teacher because it wasn't school-approved.
"Why can't they wear a black or navy puffer jacket or a jumper? The school jacket is too bulky and it doesn't even keep them dry when it rains.
"And the school sports jacket, which is actually warm, is not allowed to be worn unless they're playing sports."
Kaipara College principal Steve McCracken said the health and safety of students was paramount.
The school had several unisex uniforms which students could wear during winter, including ribbed jerseys, tights, socks, jackets, long-sleeve shirts and blouse, and scarves.
McCracken said the current uniform was designed in consultation with students and parents in 2016.
"As per our school policy, the board of trustees expects all students of Kaipara College to wear the set of uniform in its entirety, correctly, neatly, respectfully and with pride," McCracken said.
But former student Acacia Smith said the school jerseys "smelt like wet dog when you got caught in the rain and took forever to dry out".
She said it was time for a change and she supported a warmer uniform alternative.
Robinson said she only wanted the best for her daughter and other students.
"Bend the rules a little bit for the sake of our kids."