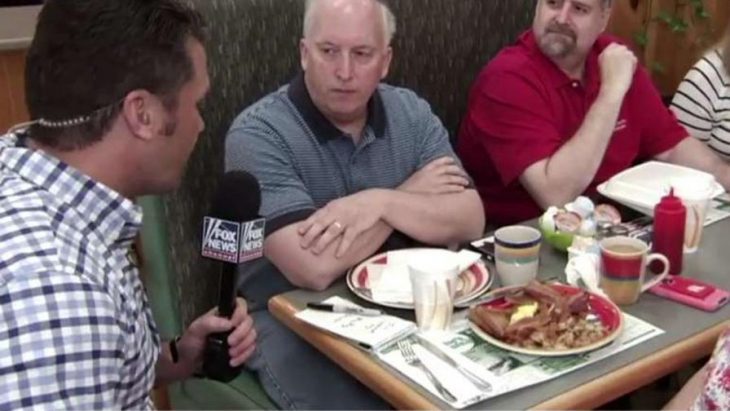 Pennsylvania primary features Lou Barletta, Jim Christiana vying for Senate
Pete Hegseth gets the pulse of the people in Butler, Pennsylvania.
Pete Hegseth gets the pulse of the people in Butler, Pennsylvania.
Reps. Lou Barletta and Jim Christiana, a state lawmaker, are facing off in Pennsylvania's U.S. Senate primary on Tuesday.
Barletta, who has the backing of President Trump and the state Republican Party, is expected to beat Christiana, who is serving his final term as a state representative.
Whoever wins the primary will face incumbent Sen. Bob Casey, a Democrat. The 58-year-old has served in the Senate since 2007. The general election is expected to remain likely Democrat, according to Fox News' projections.
Read on for a look at the two Republicans vying for the GOP nomination.
Congressman Lou Barletta has the backing of President Trump in his bid for U.S. Senate.
(AP Photo/Evan Vucci)
Seen as the favorite to win the primary, Barletta has Trump, Sen. Pat Toomey and the Pennsylvania Republican Party on his side.
Barletta was one of Trump's early backers, and the president hasn't seemed to have forgotten that in the election. He expressed his support in a tweet, and in a recent robocall, praised Barletta as a "good friend" and "very special guy."
Rep. Lou Barletta, a Great Republican from Pennsylvania who was one of my very earliest supporters, will make a FANTASTIC Senator. He is strong & smart, loves Pennsylvania & loves our Country! Voted for Tax Cuts, unlike Bob Casey, who listened to Tax Hikers Pelosi and Schumer!
Barletta, 62, has been in Congress since 2011 where he serves on the Homeland Security, Transportation and Infrastructure, and Education and the Workforce committees.
Before Congress, he served as mayor of Hazleton, Pennsylvania, and started a pavement marking company. A baseball lover, he dropped out of college to unsuccessfully try out for the Cincinnati Reds.
In his Senate campaign, Barletta said he would focus on combating the opioid epidemic and tackling illegal immigration. He's also anti-abortion and a gun owner who said he supports the president's plan to ban bump stocks, according to his campaign website.
FOX NEWS MIDTERMS POWER RANKINGS
According to the Pittsburgh Post-Gazette, Barletta has had his sights on the general election — and his campaign website features multiple sections attacking Casey.
"This election is going to be a contrast between me and Sen. Casey: what I've done in my private life as a businessman, what I've done as a mayor and what I've done in Congress versus what the senator's lack of achievements have been," Barletta told the Post-Gazette.
State Rep. Jim Christiana has encouraged his supports not to "bet against an underdog" in the primary election.
(Lucy Schaly/Beaver County Times via AP)
The day before the primary, Christiana had a message of encouragement: "Let's just say this about tomorrow … I wouldn't bet against an underdog from Beaver County."
Let's just say this about tomorrow… I wouldn't bet against an underdog from Beaver County. #SbIII https://t.co/TFdJ39miIY
Christiana has served as state lawmaker since 2008. He is enrolled in night classes at Widener University's law program and has a young son with his wife, Jayann.
Christiana told the Pittsburgh Post-Gazette the culture in Washington, D.C., is "broken," and he believes he has learned how to be enough of a "productive legislator" as a state lawmaker to fix it. For example, Christiana cited times where he worked with Democrats to expand education tax credits or get patients access to doctors during a feud between the University of Pittsburgh Medical Center and Highmark, a health insurance company.
RICK SACCONE SEEKS CHANCE AT REDEMPTION IN PENNSYLVANIA CONGRESSIONAL RACE
"There has to be compromise, and on every one of those situations we delivered significant results, and that's what the model has to be in Washington," he told the newspaper. "That's the only way we're going to fix Social Security from going bankrupt, fix our immigration system and improve our health care system."
If elected, Christiana planned to focus on combating the nationwide opioid epidemic, repealing ObamaCare and making higher education more affordable, according to his campaign website. He also wants to crack down on illegal immigration, saying he has supported attempts to hold sanctuary cities liable for damages by undocumented immigrants, according to his campaign website.
Christiana said he was not surprised by the Pennsylvania Republican Party backing his opponent in the primary.
"I liken it to the Philadelphia Eagles losing to the Kansas City Chiefs in week two," he told the Pittsburgh Tribune-Review.
The Associated Press contributed to this report.
Kaitlyn Schallhorn is a Reporter for Fox News. Follow her on Twitter @K_Schallhorn.