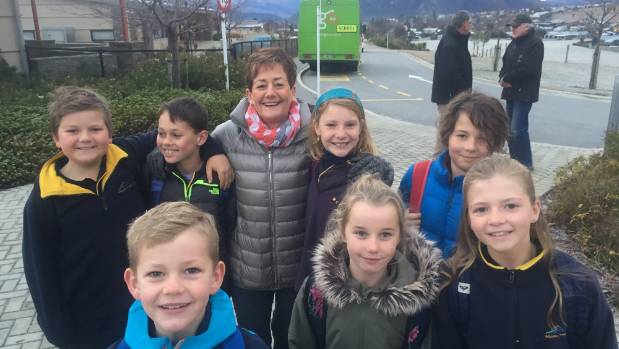 Otago pupils 'forced' to stand in bus aisles on icy 100kmh roads
Children's lives are at risk as they stand in the aisles of overcrowded school buses on the open road in icy Central Otago, a school says.
Wanaka Primary School in Central Otago is calling on the Government to stop children having to stand in bus aisles when travelling to and from school, believing it to be a safety risk.
Board chairman Andrew Howard said the way the New Zealand Transport Agency (NZTA) and Ministry of Education (MoE) worked together was flawed and required urgent review.
NZTA used a "certificate of loading" regime that allowed school buses to load children in such numbers that some had to stand. The MoE funded the service under this regime knowing standing would occur, he said.
"I was very surprised to hear that standing is not only allowed, but positively encouraged under the current system. We consider children of any age having to stand in the aisles of school buses to be extremely unsafe and potentially life threatening.
"These are large vehicles travelling at 80kmh on the open road in all weathers. There are additional risks in our district with often severe winter driving conditions and inexperienced tourist drivers not used to New Zealand roads. Studies suggest that pedestrian survival rates in an accident with a vehicle travelling at 80kmh are zero. The same could be said for standing passengers in a moving bus."
Ministry of Education Head of Education Infrastructure Service Kim Shannon said it was not uncommon for children to sit and stand on buses to school, and serious injuries on school buses were "extremely rare".
"Travelling to school by bus remains the safest way a student can travel to school by road … We don't plan at this time to set a requirement for loading that is different than the rules that apply to children travelling on public transport to and from school."
All ministry school buses in Wanaka were being operated in compliance with their Certificate of Loading, which was issued in line with New Zealand transport safety requirements, Shannon said.
The Certificate of Loading included the numbers of passengers that may be transported seated and standing.
Principal Dr Wendy Bamford said Wanaka Primary School had a rapidly growing roll with currently more than 720 children. It moved to a new site in 2010 and was expected to have a maximum roll of 650. Construction of another 800-pupil primary school for the town may begin later this year.
There were 303 children on the bus roll, which covered and area including Albert Town, Luggate, Cardrona, Glendhu Bay. However, other schools used the same bus service, including Mt Aspiring College, that had a roll of more than 1000 students.
Parents had started texting the school when their children had to stand in the aisles, she said.
"The children themselves don't feel safe because they are holding onto a seat which is often higher than they are so there is no stability for them … We are concerned those children are like bullets, with the shingle roads, with the winter conditions, even just with traffic, those children go shooting forward."

Parent Alanna Brett, who has three children riding the bus from Luggate to school, said she and her husband had written to the school board several times complaining their 5-year-old son was regularly having to stand in the school bus aisle.
"He could hardly reach the handle bars. It was happening almost every time he was on the bus – until a bus started doing a second pick up because the bus run was so full."
Concerned parent Nicky Ramsden said her 9-year-old son got on the bus with five other children early into the pick-up and regularly had to stand.
"He has always had three to a seat, but this year he's had to stand or get an older child with him to give him a seat. He has had to be quite assertive to get a seat. There are a lot of kids who get the bus after that and even younger children than him. I hate to think what could happen to them if the bus crashed – they would fly through the windscreen."
Howard said there had not been any crashes involving the school buses, but it was a matter of time, he said.
"Now that the ministry and the minister are aware of the situation, if an accident does happen, they are responsible … A person pulled out of Puzzling World a couple of months ago and hit a truck. The truck had nowhere to go and crashed. If that was the school bus with kids in the aisle, I'm sure there would have been fatalities."
The school board gained the support of Waitaki MP Jacqui Dean and Queenstown Lakes District Mayor Jim Boult, who wrote to the ministry expressing outrage.
"We don't for one minute condone adults riding in motor cars without seatbelts, yet we are prepared to allow the most precious part of our community – our children – to stand up unrestrained on the open road. The situation does seem ludicrous," Boult said.
Howard said the situation could be resolved either by the ministry adopting a one-seat-per-child funding formula or by the Ministry of Transport changing legislation to stop allowing passengers to stand on buses when travelling on the open road.
"The MoE's own study found that the estimated cost of providing a seat for all children would only cost an estimated $1.4 million. This seems like a small price to pay for dramatically improving the safety of our children."
The ministry is yet to provide comment, but in a March email to Howard and principal Dr Wendy Bamford, Ministry of Education Otago/Southland regional transport manager De Thomson declined to meet with Central Otago boards and principals.

She said the ministry did not intend to review its school bus seatbelt and standing requirements. "NZTA are the regulating authority and we contract our operators who follow these regulations," Thomson said.

Thomson said the ministry was gathering data to allow a review of all Wanaka bus routes. "This may result in changes to eligible numbers and routes however this will not be fully known until the process is complete."
According to NZTA, in the 21 years from 1987 to 2007, 22 children were killed, 45 seriously injured and 91 received minor injuries when crossing the road to or from a school bus, while six children were killed while passengers on a school bus.