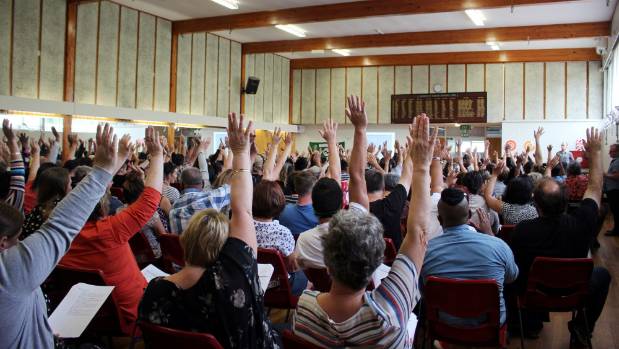 NZEI survey finds a third of Māori and Pasifika school leaders experienced racial discrimination
Almost a third of Māori and Pasifika primary school leaders have experienced racial discrimination at work, a survey has found.
The Principal Health and Wellbeing Survey, commissioned by New Zealand Educational Institute (NZEI), reported 27 per cent of Māori and Pasifika school leaders identify their ethnicity as a source of relationship tension.
There were 25.8 per cent who reported discrimination at work, based on ethnicity, compared to about 9 per cent of non-Māori leaders.
Lead researcher associate professor Phil Riley said senior school leaders had even reported discrimination when dealing with government agencies, including the Ministry of Education and the Education Review Office.
READ MORE:
* Increased stress pushing principals away
* Guy Williams: The quiet racism of New Zealand
* Students tell of racism in study
The Ministry of Education responded saying it was "pleased" the survey had been made public.
Secretary Iona Holsted said it looked forward to working with NZEI to address discrimination issues in the education sector.
"It is an important issue to talk about and backs up findings by the office of the Children's Commissioner of children's experiences of racism at school.
"Regrettably discrimination still occurs in all walks of life. In schools, it has particularly harmful impacts adversely affecting a child's sense of self and their learning outcomes."
Of those surveyed, 89, or about 15 per cent of respondents, identified as Māori and Pasifika. They mostly agreed comments had been made referring to Māori that caused offence.
Perpetrators included other employees and principals, those in leadership or management positions, business contractors, community organisation representatives, parents and the wider community, the report said.
Riley said the he was most shocked when school leaders said review cycles had gone from three-four years to annual cycles when Māori leaders were appointed.
While the intention may have been for support, those who reported the incidences said it was seen as scrutiny. "While we can't say it was blatant racism. It absolutely was perceived as it."
He said the survey focused on school leaders because they were "in a sense, the canary in the coal mine".
"Clearly there is still a lot more to be done. This is bigger than a school issue."
NZEI Matua Takawaenga Laures Park said the results were disappointing but not surprising. The organisation has made a list of recommendations to education authorities.
However, the figure is slightly less than those in the 2016 survey which showed 29.8 per cent of Māori and Pasifika school leaders reported relationship tension as a result of their ethnicity. In the same year 27.1 per cent reported racial discrimination at work.
Those figures raised concerns within the industry which led to the 2017 survey.
The 2017 survey was published on Friday. The survey captured responses from around the country with 1217 participants.
Future annual surveys will include teachers in results.
The Education Review Office has been approached for comment.