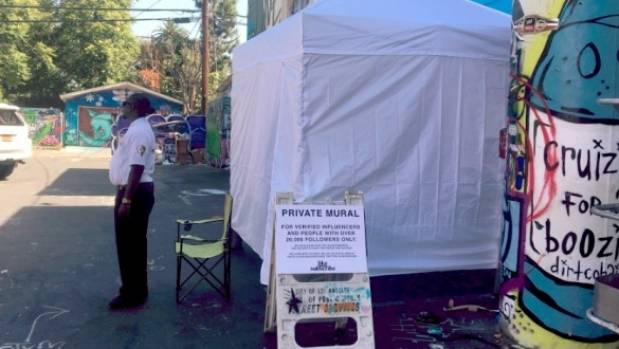 New Los Angeles mural only for social media 'influencers' sparks outrage on social media
A new mural in the US is causing outrage on social media.
The mural, which is located on Melrose Avenue in West Hollywood, Los Angeles is flanked by security and a sign, saying "Private mural – for verified influencers and people with more than 20,000 followers onl".
"We apologize for the inconvenience. See security staff for proof and access"
"Influencers: please tag us on social media!"
READ MORE:
* Fake views: Why travel bloggers manipulate images
* How much cash could you make with your Instagram?
* How to live like a celeb in Los Angeles
Not, ahem, the best or most original work of LA's prolific artists, the mural features a set of wings encased within a heart, emblazoned with the words "City of Angels" – in quotation marks – with the words "love" and "art" at its base. Pass me a bucket, please.
The casual passer-by can't actually see the mural as the whole thing is cloaked with a white sheet. You may only pass behind the sheet if security see your influencer credentials pass the test.
Vice journo Justin Caffier (verified, followers 5256) has exposed the "art" on Twitter which has been retweeted around 3000 times.
Others have donned their sleuth caps to reveal it looks suspiciously like a trailer for a TV show or a marketing campaign. Some say it's a publicity stunt by EDM Dillon Francis for Like And Subscribe, a new comedy about a YouTuber's attempts to become famous. Either way, we'll find out on July 9, unless we've completely forgotten it ever happened.
In the meantime, you can join the outrage in the Twitterverse. The mural can be found at 7753 Melrose Avenue, West Hollywood – if you can get there faster than the vandals discover it.
– Traveller