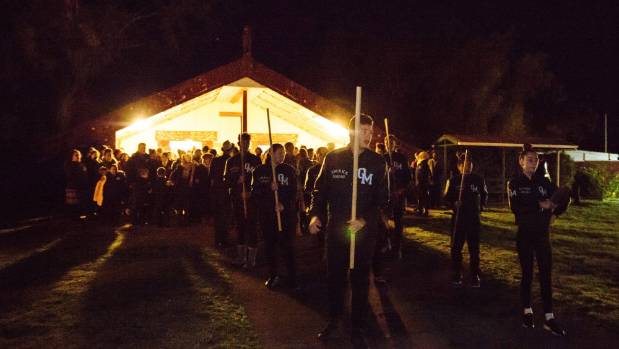 New era as Marlborough's first kaupapa Māori school opens
As the sun slowly rose, it cast tentative rays of light on the historic gathering below.
The dawn broke on a new day and a new era as the opening of the region's first bilingual kaupapa Māori school got underway.
Around 250 people travelled from across New Zealand for the official opening of Te Pā Wānanga, including those from the three Kurahaupō iwi of Te Tauihu, Ngāti Apa ki te Rā Tō, Ngāti Kuia and Rangitāne o Wairau.
The school, a two-classroom satellite unit of Renwick School based at Omaka Marae in Blenheim, was officially opened during a dawn ceremony on Friday.
READ MORE:
* Ministry of Education announces funding to create kaupapa Maori school in Marlborough
* Omaka Marae programme Pa Kids continues to grow
* Marlborough's first bilingual school not just for Māori
For those gathered it was an eagerly awaited occasion.
"This is a significant and historic day," said Ngāti Apa ki te Rā Tō Trust chairman Brendon Wilson.
"This is a vision that has long been held, and it's a credit to the tenacity of Kiley (Nepia) and his family that we are standing here today.
"Finally, our tamariki can be educated within a Māori context. This is something we could have only dreamed about when my generation were children," he said.
Te Pā Wānanga is part of Omaka Marae's strategic vision towards developing a centre of cultural excellence.
Marae general manager Kiley Nepia and his wife, Donna, have championed the establishment of a kura at the marae since 2013.
The project moved forward in late 2015 after the marae secured funding from Te Pūtahitanga o Te Waipounamu to develop the Pā Wānanga concept further.
After continuing talks with the Ministry of Education, the marae invited Renwick School to partner with the satellite unit until Te Pā Wānanga could establish itself as a standalone school.
Funding for the unit was announced in June last year by the Ministry of Education.
Ngāti Kuia chair, Waihaere Mason, said the school played an important role in terms of cultural identity and whakapapa.
"This is about whakapapa. You can't have a culture without a language and you can't have a language without culture.
"This is a wonderful occasion and a great reminder—we're all in this together," he said.
Te Rūnanga a Rangitāne o Wairau chairperson Wendy Hynes said the partnership between Omaka Marae and Renwick School was one to be celebrated.
"Together they are able to offer the best of both educational worlds.
"Rangitāne congratulates those who have made this aspiration a reality, in particular Kiley Nepia, whose passion and perseverance for the revitalisation of Māori culture and language in Marlborough is second to none."
Twenty students are currently enrolled at Te Pā Wānanga, with classes due to start in Term 4.