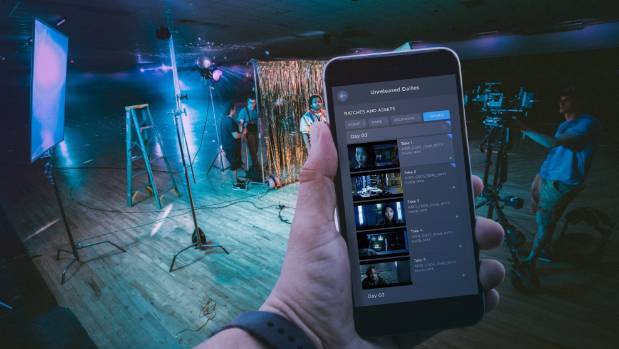 Moxion: The Kiwi company with its sights set on revolutionising Hollywood
A New Zealand company is aiming to revolutionise the way Hollywood makes movies.
Born out of a need to find a way to share and store video securely and efficiently, Moxion allows film-makers to view and edit footage almost immediately after they have shot it.
​Now living in Los Angeles where he's trying to drum up business for the Auckland-based company he co-founded with Michael Lonsdale in 2015, Hugh Calveley said the two Kiwi film industry veterans had seen how frustrating it was to have to wait for at least a day to see footage captured on-set.
"We're now used to being able share everything immediately in digital world, but when you go onto a film set a lot of that disappears. And sometimes they would then look at the footage and go, 'I wish I we'd got that', having already moved on to another set-up. So it was kind of obvious really that we needed a way of getting footage captured from a camera and firing it up into the cloud as soon as possible."
READ MORE:
* The Meg: Chinese actress Li BingBing thought she was going to die on NZ set of shark movie
* Here be sharks – behind the scenes of The Meg
* Is action star Jason Statham filming in Auckland?
* China will get first look at NZ-filmed blockbuster Meg
* Kiwi actor Cliff Curtis joins cast of giant shark movie
Aware that Hollywood is something of a conservative place (Calveley himself described it as like a "container ship – it takes a lot to turn it"), he knows that changing the traditional dailies process (of viewing on-set footage the next day) won't be easy ("there's a perception that if they haven't needed it before why would they need it now?"), but they've been demonstrating Moxion's practical applications and have come up with a catchy name that's already drawn, interest, work and wy smiles.
"What"s faster than dailies? Immediates. I thought we should call it 'The Immediates', but Michael reminded me of what Mark Zuckerberg did with The Facebook. We even have a catchphrase: Immediates – like dailies, but a day earlier."
Calveley stressed that it while it offered rapid two-way communication across different aspects of a film's production, it was not the same as live streaming the camera feed. "That would be disastrous. With a live stream, there's no intent, you don't know if what the camera is seeing is the director's vision or not."
One blockbuster that has already benefited from Moxion's technology is Jason Statham-starrer The Meg.
Shot in late 2016, the sci-fi action thriller was the first major motion picture to be filmed on Auckland's Hauraki Gulf, as well as at the city's Kumeu Film Studios, before production shifted to China.
"The hero boat was meant to be somewhere in the high seas," recalled Calveley.
"So having another boat [to house the production staff] nearby really wouldn't have cut it – it had to be at least five miles downstream. Now, normally you would have to have a big microwave link between the two boats so they could communicate. But with us, what we could do is take the footage that was coming in from the short-range wireless transmitter on a helicopter and a boat, show the pictures to the director and the director of photography, then put it up into the cloud, via Amazon Web Services, so it could then be pulled down again on the production boat. That meant they were able to see what had been shot about 90 seconds after they had stopped recording. They heard 'cut' in their earpiece and could view something just a minute-and-a-half later."
Moxion also allowed director Jon Turteltaub and his fellow crew to quickly compare what was happening above the water in the gulf and below the water in the Kumeu "tank". "So if someone jumped into the water holding a spear gun a particular way, they could check it straight away, rather than having to wait a day or so."
The technologies capabilities also mean editors can be based anywhere in the world and far away from a "noisy" set. "And they can send the assembled footage right back to the set again, where the director can view it on the same monitor he's been using onset for the whole shoot."
And heading into post-production, Moxion allows colour information to exchanged between production units, Calveley said. "A completely new crew could look at the exact colours before doing pick up shots."
Having just wrapped working on Deepwater Horizon director Peter Berg's latest collaboration with Mark Wahlberg, Mile 22, and with a "huge Hollywood movie potentially in the pipeline", Calveley said it is a "pretty exciting time for the company" .
Delighted to have the support of the NZ Film Commission, he said it was important that New Zealand becomes recognised as "a technology source, not just pretty landscapes and good crew". "Otherwise, if all we are doing is exporting our scenery, then we're just doing the equivalent of exporting our topsoil. Leveraging the technology we have is going to be vital for our industry."