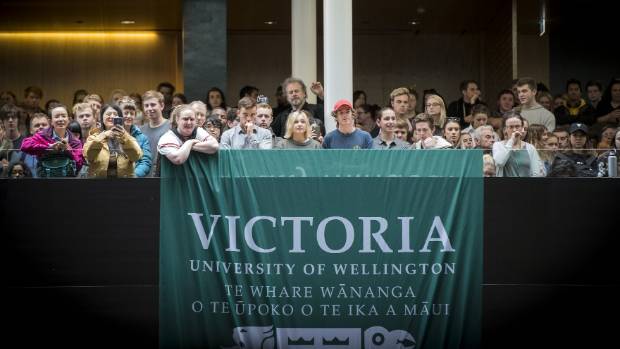 'Modest' number of submissions received for Victoria University name change
Victoria University's proposed name "simplification" is tracking along well despite a public meeting on the issue attracting just six people.
Earlier this year the tertiary institution began floating the idea of a name change to simply the University of Wellington, in an effort to eliminate confusion for potential overseas students.
Over the past two months, a series of forums for staff, students and stakeholder groups including civic leaders, other tertiary institutions and Māori have been held to discuss the proposal.
However, despite the number of opportunities for in-person engagement, only six people attended a public meeting held in Wellington and two of the 220 people invited attended a meeting for stakeholders.
READ MORE:
* Victoria University of Wellington looking to change name to avoid overseas confusion
* Victoria University's Vice-chancellor makes the case for name change
* Rezone gives Victoria University 'more scope' to plan future of Gordon Wilson flats
In addition to public discussions, the university received just over 400 email submissions during the feedback window.
"While the feedback period has ended, we are still receiving occasional emails from people who wish to express their views and these are being included in collation of the feedback," a university spokesperson said.
In total, Victoria University is a community of around 22,000 students, 2500 staff and more than 100,000 alumni.
While the level of engagement in the name change proposal has been a drop in the bucket when it comes to the number of people associated with the university, it already has the support of Wellington Mayor Justin Lester and the Victoria University of Wellington Students Association (VUWSA).
Vice-Chancellor Professor Grant Guilford said if the simplification were to go ahead, a key focus would be on ensuring the heritage of the name Victoria was protected and honoured.
"If we do decide to retire Victoria from the name of the university there are a number of ways we could continue to use the word and respect all it means to us. For instance, retaining the word in publications, our physical facilities and some of our units such as clubs and halls of residence.
"We could potentially offer awards using the name and could consider regular symposia that bring alive this era and our connection to it across areas as diverse as literature, music, sociology, law, and politics, to name a few."
Guilford said current intentions were to change only the name, and leave the university's crest, font and other details the same
If the university were to simplify its name, there is agreement that the te reo Māori name should be reconsidered at the same time. Te Herenga Waka, which translates to the hitching post for your canoe, has been suggested.
"We expect this work to be completed over the next month or two whereupon the market research and the feedback, in its entirety, will be provided to University Council members along with a recommendation from the Vice-Chancellor," a university spokesperson said.
Following that process, the costs associated with a name change would be announced and any proposed name change would go to Education Minister Chris Hipkins for approval.
NAMES SIMILAR TO VICTORIA UNIVERSITY OF WELLINGTON
* Victoria University – Melbourne, Australia
* University of Victoria – Victoria, Canada
* Victoria Shanghai Academy – Hong Kong
* Victoria University (college at the University of Toronto) – Toronto, Canada
* Victoria University of Bangladesh – Dhaka, Bangladesh
* Victoria University Kampala – Uganda
* Victoria International College – Kuala Lumpur, Malaysia
* Victoria College Jersey – St Helier, Jersey, Channel Islands
* Victoria College Belfast – Belfast, Northern Ireland