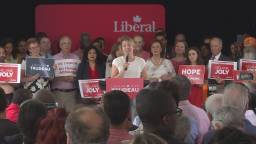 Melanie Joly to run again as Liberal candidate in 2019 federal election
READ MORE: Canada's official languages action plan promises 'historic' investments
Change Location
Newscasts & Videos
Melanie Joly speaks to the crowds gathered in Ahuntsic-Cartierville as Joly is nominated as the Liberal candidate for the upcoming 2019 federal elections. Sunday, July 15, 2019.
With the next federal election just over one year away, the Liberal Party has put forward its first nomination in Quebec.
At an event in Ahuntsic-Cartierville, Melanie Joly was nominated as the Liberal candidate for that riding.
READ MORE: Canada's official languages action plan promises 'historic' investments
It's a position she has held since 2015, on top of her role as Minister of Canadian Heritage.
Sunday's announcement marks the first of many similar events expected in the coming months.
READ MORE: Feds considered how to collect taxes from Netflix, Amazon
For Joly, it was a chance to reassert her commitment to helping middle-class families.
More than ever, the politician's role is to defend our values and what unites us, rather than what divides us. That's exactly what I will continue to do if the citizens of #Ahuntsic #Cartierville once again put their trust in me in 2019 #cdnpoli #TeamTrudeau pic.twitter.com/PAr9BYqFfY
— Mélanie Joly (@melaniejoly) July 15, 2018
© 2018 Global News, a division of Corus Entertainment Inc.
Want to discuss? Please read our Commenting Policy first.