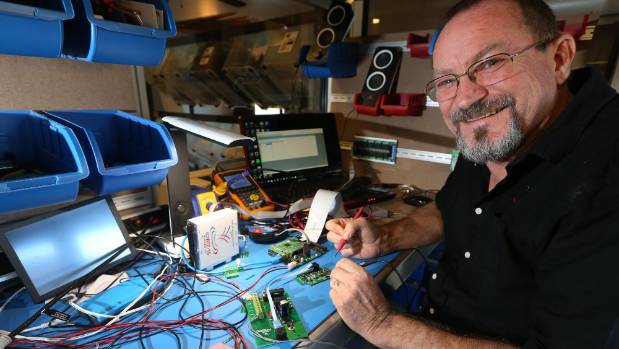 Kiwi technology helps ferment innovation in global wine industry
If a tank had a brain, what would it think about? These wine tanks may not be that advanced, yet, but 'giving tanks a brain' is something that wineries around the world pay this small Renwick company to do.
Owner of Wine Technology Marlborough and designer of VinWizard David Gill says his technology, a winery automation system, is transferable to wineries everywhere.
"There are a lot of wineries that don't have a lot of control."
"If you're making a premium wine you don't want to be going by gut."
READ MORE:
* Innovation the savvy little secret to Marlborough's wine making success
* New vineyard technology 'something you could only dream about' 20 years ago
* Human drone falls into new line of work
Gill believes the wine industry has largely stopped innovating, which has motivated him to push the boundaries to give winemakers the tools to create ultra-premium vintages.
The company was founded in 1995 when Gill, an electrician by trade, was called out to work on a winery cooling system.
"I didn't realise the bad shape that the systems were in so I decided to make my own."
And with that number eight wire mentality, Gill set off to do just that.
Now, 23 years later, VinWizard is one of the premium automated winery control systems on the market.
"The system is what it is because of feedback from the industry," Gill said.
Gill and his team of five design and print their own printed circuit boards (PCBs) and have incorporated the ultra-low-cost Raspberry Pi computer into their design to essentially give every tank a 'brain'.
"We were using off-the-shelf tech and realised we couldn't go any further," Gill said.
"We found we could put much more smarts in them by designing and building our own PCBs."
"We put hardware together in our workshop in Renwick. We support all our systems around the world remotely from here too.
"It's so easy to do it from here. It's not like you need huge resources, you just need to do it," he said.
The company recently won an innovation award for their multi-level probe at the prestigious Innovation + Quality Napa Valley forum in the US.
The probe has nearly 50 sensors on board and takes multiple measurements at several different depths in a wine tank.
"It's what we enjoy doing. Designing stuff that is useful," Gill said.
"We have competition, but they all seem to be doing something different."
Gill said his company has a broad knowledge of how a winery works and invests heavily in research and development. "It really sets us apart."
"We listen to our winemakers and try to design solutions around what they want."
Like all the best innovators, Gill is constantly looking forwards and believes the future is bright for VinWizard.
"The exciting part is the next five years.
"We're working on a range of battery powered sensors that will be put around a winery," he said.
Gill said the next big thing is going to be LoRa – 'Internet of Things' technology that enables very-long-range transmissions with low power consumption.
"In America, they have a lot of portable tanks so, at the moment, they can't monitor the temperature.
"Wine is great because it's so traditional, there's so much that can be done better. We're not trying to take over, we give winemakers the tools.
"We're all about the wine, the creative side has to be there and the engineering side, the repeatability, has to be there too."