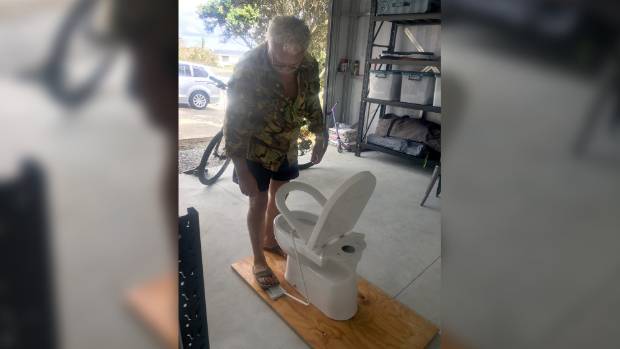 Kiwi family's foot-pedal-operated toilet-seat lifter could revolutionise loos
A Kiwi family hope their back-shed design for a toilet-seat lifter revolutionises loos – and even saves relationships.
Twenty-three years ago a spat between Billie Jo Ropiha's parents about the toilet seat being left up sent her dad Thomas out to the shed to start tinkering.
He emerged with a foot-pedal operated toilet-seat lifter as his solution. The family have been using it since, to the envy of visitors who often say they want to take it home.
Last year, Ropiha graduated with a masters in business from Massey University, and a plan. After several prototypes, working with a product designer, and learning to set it up for mass production, she now has thousands of Kiwee Lifters about to be assembled.
READ MORE:
* Journalist turned businesswoman Billie Jo Ropiha keen to change the world with big ideas
* Kiwi street food fare set to spice up cooking graduates career
* Taranaki company's hospital bed receives 2018 good design award gold
Finding the seat left up is a common situation known to send sparks flying.
"A lot of the demand is from women. Lots of men say there's no problem here. But with women you get them instantly saying 'I want it' and you get a really strong reaction.
"It's the ultimate No 8 wire invention that will save marriages, and spread the love."
Her dad initially looked into production in the early 1990s, but found the cost was too great.
"Over the years our family was like 'when are you producing them, Tom?' 'When are we getting ours?' We had friends in sales that were keen to sell them," she said.
Manufacturing has become more feasible, and with support from government agency Callaghan Innovation and experts they were able to sidestep complications.
"We know the design's been working for 23 years. We're pretty proud of it, it looks great and it does its job," Ropiha said.
A bar owner has told her it could be of interest for unisex loos in hospitality, and the hygiene benefits could appeal to offices, hospitals and public loos.
The lifter's arm is attached to a toilet seat, which is part of the product. The foot pedal came with adhesive to stick to any floor surface, so it was easy to install, she said. A "soft close" mechanism means the seat comes down gently.
Of the few similar overseas products she has seen, most were more gimmicky than practical.
Ropiha hopes it will be picked up by major bathroom and hardware suppliers. The Lifters are expected to be ready by August.
"There's 1.5 million households in New Zealand, with an average of 2.5 bathrooms each. It's a bit of hardware you probably need."