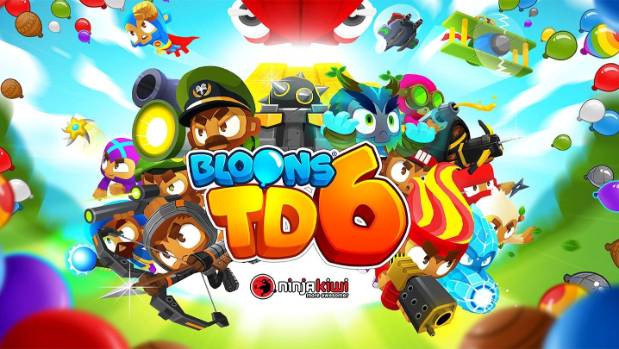 Kiwi-designed online game 'Bloons TD6' tops the worldwide paid app charts
A Kiwi-designed online game blew away its competition to become the top-selling paid app in the world on Friday.
'Bloons Tower Defence 6', or Bloons TD 6 for short, is the creation of game developer Ninja Kiwi Limited.
It's available for download on Android and Apple iPhone and iPad.
The company was founded by brothers Stephen and Chris Harris and is based in Kumeu, West Auckland. They also have an office in Scotland.
READ MORE:
* Industry of Imagination: New Zealand game designers join international experts
* Meet the NZ CEO who caps his salary and gives staff unlimited annual leave
* Labour aims to turn gaming sector from $90 million to $1 billion industry
Chris Harris told Stuff the company's first Bloons game "began as a little browser-based Flash game in Stephen's bedroom as a three-week project for two people".
"Twelve years on and many games later it's evolved into our latest baby to hit the app store as Bloons TD 6.
"This represents three-and-a-half years' work by our incredibly talented team. We're overwhelmed with pride that our years of work have been met with such … appreciation from our fans."
NZ Game Developers Association secretary Stephen Knightly tweeted about the app's success today, which he said is unprecedented.
"While we have had some number-one mobile games before, this is the first time a Kiwi game has topped the Android, iPhone and iPad paid app charts all at the same time. That's a real achievement."
Knightly said people who play the app take on the role of monkeys who have to pop balloons with darts.
"While it sounds really simple it's actually one of the most complex strategy games [available].
"You become a sun god monkey and pop zeppelins [airships] with flamethrowers.
"Hundreds of thousands, if not millions, of fans were waiting for the app to come out.
"To put it into perspective, it was above Minecraft​ in the charts today."
The app's appearance at the top of the worldwide charts for paid apps is "just another success story" for New Zealand's game-development industry, Knightly said.
"Video game development is the country's fastest growing creative industry and is expected to earn over $100 million in exports this year.
"These guys [Ninja Kiwi] are one of the most well-established video game developers in New Zealand.
"They've grown a fan base around the world over many years."
Knightly said one reason Bloons TD 6 is so popular is that it has a wide audience.
"American soccer moms are playing this game. It's fun and friendly, so it's accessible, but under the surface it's quite complicated.
"If it's simple and dumbed-down it becomes boring quickly."
Chris Harris said he's going out tonight to celebrate with the Ninja Kiwi team.
"It's been three years of hard yakka. The guys need a night out."
It costs $7.18 to download Bloons TD 6.