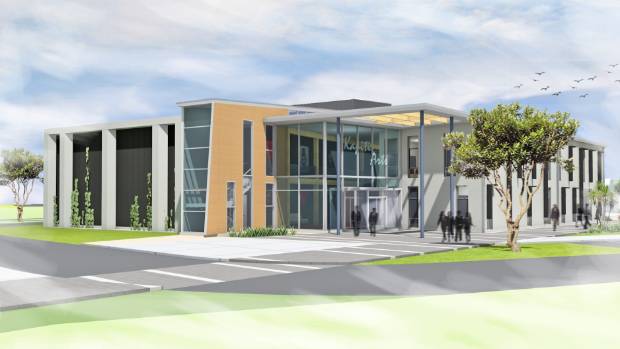 Kāpiti's $10m performing arts centre starts to take shape
Kāpiti's $10 million performing arts centre is starting to take shape but still needs help from the community.
With pre-fabricated walls set to rise from the foundations in the next few weeks, the project needs a final push to reach its fundraising target.
About $800,000 needs to be raised for the build, which will see the purpose-built centre shared between Kāpiti College and the community, college board of trustees chair Cas Carter said.
"This would be the biggest thing happening in Kāpiti. It's going to make a massive difference to the district."
READ MORE:
* $10millon arts centre is a go
* Arts centre is now a reality for college
* Fitout of Zeal building to begin in 2017
The centre started as a $4m project for the college but quickly grew after a resounding call for a community performing arts space, Carter said.
"We went to the council and they had a plan for a centre in their Long Term Plan so we combined."
It meant the project has taken longer than Carter would have liked – about eight years so far – but the end is now firmly in sight.
"All things going to plan, we'll open in the latter part of 2019."
When the project is completed it will include a theatre with more than 400 seats, an orchestra pit, six rehearsal rooms – including a dance studio with a sprung floor – and a black box theatre. The foyer will provide room for exhibitions.
Carter said it had already attracted interest from groups keen to perform there and she urged the district to help the project over it's last fundraising hurdle.
"Now it's a push to go out to the community and say "this is for you, invest in it and you'll get it back.""
She encouraged people to consider sponsoring a theatre seat or attend a fundraising concert later this month as a way to support the build.
Kāpiti Coast District Council property services manager Crispin Mylne said the council had signed an agreement with Kāpiti College for funding and community access to the centre.
"The agreement secures council's total financial contribution of $1,600,000 to the development and secures up to to 300 days each year for community use. This agreement will be in place for 50 years, once the centre is completed."
Meanwhile, the Zeal Youth Development Centre will be officially opened on June 28. Located on Rimu Road, Paraparaumu, the centre will cater for students aged 13-18 and includes workshop space, music rehearsal rooms and a room for events.
Council senior programme advisory Emma Haxton said council had provided the service, over a three-year contract, at a total of $735,694.
"There is also a one-off capital fund of $325,000 for the build and fit-out of the Kāpiti Zeal building (totalling: $1,060,694) that opens at the end of this month."