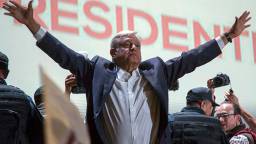 Justin Trudeau congratulates Andres Manuel Lopez Obrador his victory in Mexico's presidential election
READ MORE: Donald Trump says he will wait until after midterm elections to sign new NAFTA deal
Change Location
Newscasts & Videos
Presidential candidate Andres Manuel Lopez Obrador acknowledges his supporters as he arrives to Mexico City's main square, the Zocalo, Sunday, July 1, 2018.
OTTAWA – Prime Minister Justin Trudeau has issued a statement congratulating Andres Manuel Lopez Obrador on his victory in Mexico's presidential election.
The statement says "Canada and Mexico are close friends and longtime partners" who share a mutually beneficial trading relationship that is the envy of the world and is reflected in the effort to renegotiate the North American Free Trade Agreement.
READ MORE: Donald Trump says he will wait until after midterm elections to sign new NAFTA deal
Trudeau says he looks forward to working closely with Lopez Obrador to build on the "vibrant partnership" between Canada and Mexico to create economic growth that works for everyone, and advances human rights and equality.
Donald Trump has also congratulated Lopez Obrador on winning the presidency, however, the U.S. president has said he intends to hold off on signing a new NAFTA deal until after America's fall midterm elections.
WATCH: Canada's negotiators say NAFTA talks have stalled
A leftist, Lopez Obrador has promised Mexicans that profound change is coming to the country, but says individual and property rights will be guaranteed and the autonomy of the Bank of Mexico will be respected.
He has also been critical of the current trade accord between Canada, the U.S. and Mexico.
© 2018 The Canadian Press
Want to discuss? Please read our Commenting Policy first.