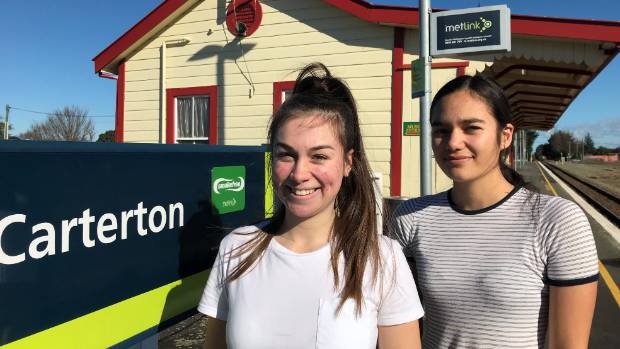 High cost of Wellington living forces students into long commutes
The dream of cheap city flatting may be disappearing, with many students now opting for long commutes to Victoria University – priced out of the Wellington rental market.
Third year student Sam-Maree Brown boards with her partner's family in Masterton because she can't afford a place in the capital.
As a consequence, Brown spends four hours each day commuting.
"Rent is just so expensive. You can really see the difference in the past year where prices of places have just gone up so steeply.
READ MORE:
* Dire rental situation has Victoria student considering leaving Wellington
* Wellington's rental shortage bites, flats snapped up in record time
* Capital's rental drought sends rents to new high: Trade Me
"Food is just so much cheaper [in Masterton] compared to Wellington, but especially the basics such as butter and milk and stuff," she said.
Trade Me's rental price index showed Wellington rents increased 6.7 per cent in the year to May and peaked at over 12 per cent in June last year.
A typical student flat in Wellington can cost each flatmate between $150 to 250 in rent – a bill which may or may not include utilities.
Victoria University of Wellington Students' Association president Marlon Drake said an increasing number of students were living out of the city, either flatting or living at home to make ends meet.
"The rental market in Wellington generally is pretty difficult at the moment with high demand, meaning even higher rent prices.
"Tertiary students are having to compete with young professionals and families, so they haven't got a lot of options.
"Students living further out in the region and commuting to study is one of the key reasons we lobbied the Greater Wellington Regional Council so hard to get a tertiary discount on public transport," Drake said.
First year commerce student Anna Rossiter-Stead of Greytown was looking forward to the student living experience in the city but has decided to put it off.
"It's way too expensive to rent in Wellington at the moment and I didn't want to stay in a hall, so commuting was my only option really," she said.
Rossiter-Stead hasn't given up on the flatting dream – she was putting some money away into a flatting fund for next year.
Carterton classmate Ngahuia Huirama was in a hall of residence, but left because it wasn't for her – it was also "quite expensive" at $395 a week.
She was now living with her parents, but intended to join Rossiter-Stead in a flat next year if they can find an affordable one.
A common complaint of commuters was there was a lack of train services to suit their schedules.
"It would be so much easier if there were more frequent trains because I've got a couple of days where I go in for eight hours but I only have two hours of lectures," Rossiter-Stead said.
New Zealand Tourism School student Angel Cranshaw lives near Martinborough and was shocked at how much it was going to cost her to flat in Wellington.
She gets up at 5.30am to drive a gravel road to Featherston train station to take the commute into attend classes in Wellington's CBD.
Cranshaw spends over a $120 a week on transport, but it was still cheaper to live in Wairarapa.
Her weekly budget was about $150, with Cranshaw receiving a student loan payment of $230.
Student allowance recipients were eligible for a $60 accommodation supplement.